HUM TV Drama Tarap, Cast, Timing, OST Singer, full Story and Reviews
HUM TV Drama Tarap Review
Genre: Action, Drama, Romance
Written by Nadeem Siddique
Directed by Misbah Syed
HUM TV Drama Tarap Cast
Syed Jibran as Adil
Hiba Qadir as Zunaira
Baber Ali as Laeeq
Nausheen Shah as Faiqa
Beenish Chohan
Faiza Gillani as Adil's ex wife
Laiba Khan
Lubna Aslam as Sadia
Farah Nadir
Sajiruddin
Ghazala Butt
Akbar Subhani
Jehanzeb Khan as Sameer
HUM TV Drama Tarap OST
OST: Tarap
Singer: Khurram Iqbal
Composer: Denis Tanveer
Producer: Babar Javed
D.O.P: Wajid Raza
HUM TV Drama Tarap Story and Review
Tarap is a 2020 Pakistani drama television series, aired on Hum TV on 29 March 2020. It is produced by Babar Javed and MD Productions and directed by Misbah Syed. It starring Syed Jibran Hiba Qadir in lead roles. The supporting cast includes Baber Ali, Waseem Abbas, Nausheen Shah, and Saleem Mairaj. Tarap is a story of hardship, sacrifice, and love that shapes the characters and plot. The drama premiered every Saturday and Sunday at 9:00 PM PST.
Tarap's drama story is all about the life of Hiba where Saleem Mirage abuses her. Syed Jibran is playing the role of a police officer in the drama and sheltered Hiba by marrying her. Saleem Mirage plays a gloomy role in this drama. He is the most popular stage and TV actor from the 1990s. His famous drama was Colony 52 on PTV. His well-liked dramas from private channels were Pul Sirat (Ary Digital), Umm e Kulsoom (Ary Digital), Rastay Dil Ke (TV One). His famous comedy serials were Khandan e Shughila (Ary Digital), and Masub Ki Dil Lagi (Ary Digital) including telefilms khurchan (Ary Digital) and Sharukh Khan Ki Maut (TV One).
Nadeem Siddique is a writer, Misbah Syed director, Momina Duraid, and Babar Javed producer of the new upcoming drama serial. Syed Jibran and Hiba Bukhari are the main lead roles of the drama Tarap. Hiba is a multi-talented, attractive new actress of our Pakistani drama industry. She was born on 29th July 1993 in Karachi. She played an excellent role in Thori Si Wafa (2017) for which she was rewarded for the best soap actress in Hum Awards. She started her profession after completing her Bachelor's in commerce. She also worked amazingly before hitting drama Silsily, Ramza-e-Ishq, and presently in Deewangi.
Syed Jibran is also a well-famed and brilliant actor and well known for his mind-blowing acting in Chup Raho, Noor-e-Zindagi, and Khuda Mera Bhi Hai. He belongs to a Pathan family. Jibran was born in Jhelum on 14th October 1979. Teasers of Tarap were released on 13th March 2020.
Tarap has multiple tracks, it also has some of the best actors in the industry, few new faces, and the aspect which appealed to me the most was the strong screenplay and effective dialogues. As far as first episodes go, this was hands down my favorite. Tarap also has an old-feel to it, not in terms of the visuals but terms of the overall storyline and execution.
It seldom happens that you watch a drama with absolutely no expectations but end up liking it. I watched the first episode of Tarap solely to share my first impression about it and not because I was planning to watch this drama in the long run. Well, guess what! Tarap's first episode was so engaging and well-put-together that I had to scroll down and see the credits list.
Yes! I did not even bother checking who the writer, director, and producers were beforehand because like I said, I wasn't planning to watch it. Tarap is a 9 pm drama which usually means that it does not have enough substance to fit the 8 pm slot. After watching this first episode, however, I must say that it deserved a better slot unless 9 pm is the new 8 pm.
Those of you who have watched dramas produced by Babar Javed will get his signature vibe from it. After watching the first few scenes, I was certain that this was not solely an MD Productions and I am honestly wondering if that was the reason why this drama did not get an 8 pm slot.
Tarap attempts to highlight certain social issues like most of the dramas produced by Babar Javed. It can easily pass as a family drama which might have something for everyone. Most of the performances in this first episode were on point and the opening scene of this first episode was the best among all the dramas which aired this week.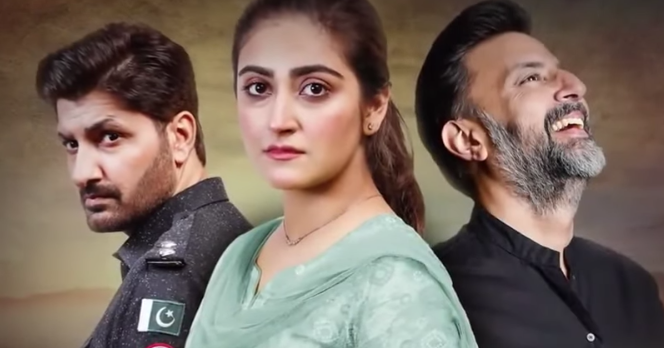 This first ten-episode was fascinating and even though some of the performances were slightly shaky, the more experienced actors made up for that. Technically, this first ten episodes of Tarap had a lot going for it.
Related Posts