Popular Turkish drama 'Dirilish Ertugrul' aired on Pakistan Television (PTV) since late April
Although some showbiz personalities have also raised their voices after the translation of 'Ertugrul Ghazi' was aired on state TV.
However, for the first time, the government minister himself objected to it being aired on state TV, saying that if all such TV channels started buying and running cheap dramas from abroad, the local industry would be ruined.
In his tweets, Science and Technology Minister Fawad Chaudhry also expressed surprise at how a state-run TV is proud of foreign drama.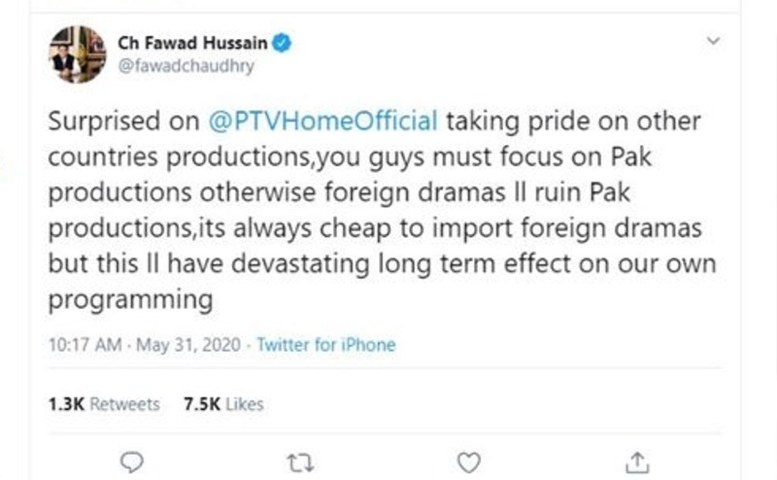 In a tweet, Fawad Chaudhry expressed surprise at how state TV could be proud to show foreign content.
At the same time, he mentioned to the PTV management that they should broadcast dramas produced by local production houses, otherwise local production houses would also start producing foreign dramas.
He wrote in his tweet that there is no doubt that foreign dramas are cheap but such dramas are a long term loss for us and it will destroy our programming system.
The Minister of Science and Technology did not mention any drama including 'Ertugrul Ghazi' in the tweet, but he apparently disagreed with running foreign dramas on PTV.
On the same tweet of Chaudhry Fawad Hussain, many people praised him and singer and actor Fakhr Alam also agreed with him and called his statement responsible and said that PTV should not broadcast foreign dramas. ۔
However, the Science and Technology Minister's tweet was criticized by some people.
After being criticized by the people, Chaudhry Fawad Hussain sent another tweet in which he wrote that Ertugrul Ghazi is a great drama, his tweet is not about Ertugrul.
Their position has always been that you play foreign dramas but it must be taxed so much that our local drama is not affected. If all the TVs buy cheap dramas from abroad then our entire industry will come to a standstill.
However, even on this tweet of Fawad Chaudhry, some people criticized him and reminded him that only a few days ago, the Minister of Science and Technology was seen praising Turkish drama.
Interestingly, just a few days before the tweets against the airing of Ertugrul Ghazi on state TV, on May 25, Fawad Chaudhry praised the drama and tweeted about its story.
Chaudhry Fawad Hussein wrote in a tweet on May 25 that the struggle for a new Turkish state begins with the third season of Ertugrul Ghazi. The first principle Ertugrul told his colleagues was Ibn al-Arabi's advice that successful states We need scientists, artists, and businessmen who provide the foundation for a strong state.
After the Minister of Science and Technology praised the Turkish drama, the people expressed astonishment over its muted opposition to airing it on state TV and accused Fawad Chaudhry of hypocrisy.