The Zainab Alert app, which helps experts in the search for missing children, was launched by experts in collaboration with the Sindh Police and Citizen Police Liaison Committee (CPLC), though it was initially launched in March this year.
 However, it is now available on Google App and Apple App Store with new features.
The Zainab Alert app was developed by Invent Lab
And Invent Lab was assisted by Sindh Police and CPLC in developing this app and making it available to the public.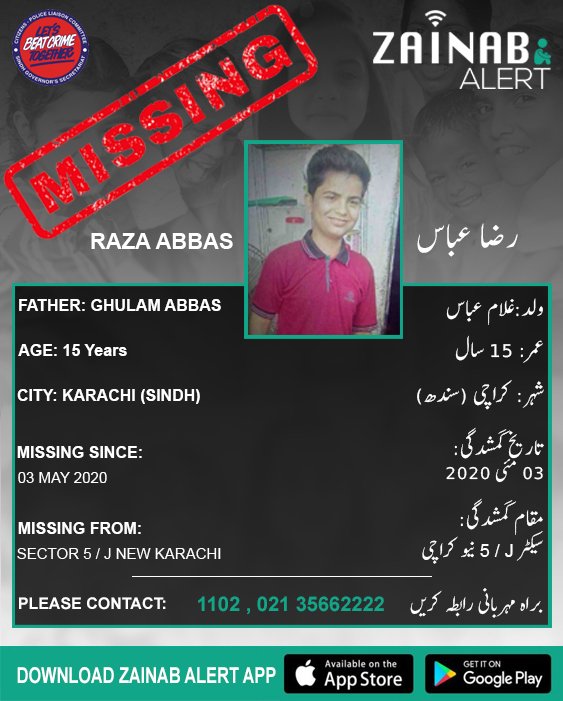 The app is especially helpful in locating missing children. The app is also available in major languages ​​of the four provinces, namely Punjabi and Pashto, including Urdu and Sindhi.
 And it can be downloaded to any kind of smartphone and take advantage of its convenience.
Anyone in the app provides a picture of a missing child and other related information that the app provides to other security providers, including the police and CPLC, through its system. Based on this, the agencies start searching for the missing children.
The app is very easy to use and its features are also easy to use in local languages.
In this app, the information of the people who have lodged a complaint regarding the missing child is kept confidential and the information provided by them is not made public.
However, the search for a missing child is shared with the general public so that information about the child is available as soon as possible.
Although Zainab Alert App has been praised by some showbiz personalities and social leaders in the past,
But recently, actresses Sanam Saeed and Hina Dilpazir, in collaboration with Sindh Police and CPLC, also shared messages on social media regarding the use of the app.
The two actresses had appealed to their fans and the general public not only to use the 'Zainab Alert App' themselves but also asked the fans to inform their close relatives about the said app so that the missing children could be rescued. Finding as soon as possible can provide comfort to parents.