Samsung's new technology Viral worldwide
Look at the picture above, can you tell how the people in it are different from ordinary humans?
Indeed, the secrets hidden in this image have sparked worldwide as it is also the first glimpse of Samsung's most advanced technology.
It may be hard to believe, but the people in the picture above are not actually humans but scientists created by 'artificial humans'.
Samsung's mysterious company Samsung Technology and Advanced Research Labs (Star Labs) introduced the technology, called Neon, at the Consumer Electronics Show (CES) in Las Vegas.
Also Read: Samsung's New Technology
With this technology, 'virtual humans are created who look and behave exactly like real humans, capable of expressing emotions and intelligence'.
According to the company, Neon has graphic avatars that look and act like real human beings, and are not a simulation of smart assistants, robots, surrogates or humans who can't tell the weather, nor can they tell when Abraham Lincoln died.
The company said, "Nunes is not AI assistant, but it is like us, ie autonomous but virtual humans, who can learn from emotion and experience, unlike AI assistants, Nunes does not know everything and has no internet interface. Track the weather or play favourite music. '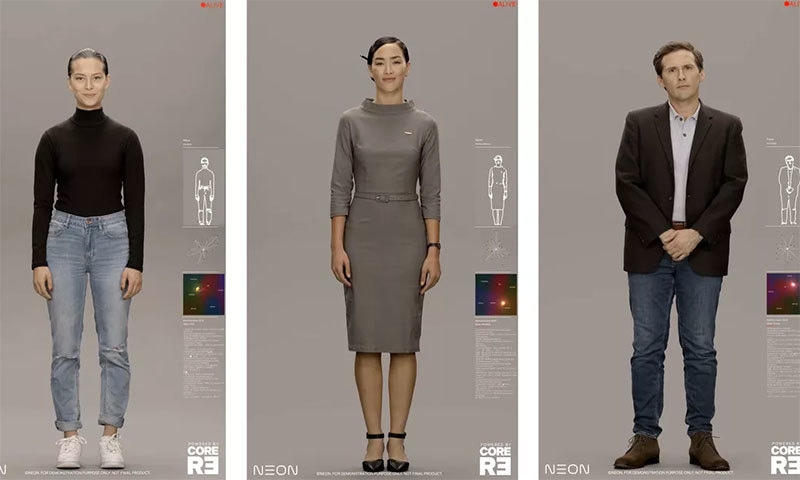 Photo courtesy of Neon
They are designed to communicate and behave like real human beings, create memories and learn new abilities while also assisting in various tasks.
The company says it can also work as teachers, financial advisers, medical care, actresses, interpreters or TV anchors.
The company says that although the habits of real humans have been taken for them to look at and listen to, they are not like human beings, but each neon has its own unique personality.
These avatars are powered by Neon's 2 technologies, one of which is Core R3, so that they can react instantly like humans, while technology is a Spectra that aids in intelligence, learning, emotion and memory.
Photo courtesy of Neon
Concerns have been raised about the technology that can be used to produce deep faxes or videos that impersonate real human figures, but the company says that although these avatars are like any real human being, The technology behind is different from the Deep Fake or Face Matching Tinic.
It said that Core R3 does not change individual scenes, videos or sequences, but rather helps to establish a unique attitude and relationship with these neons.
Related Posts