Believe it or not, SMS is considered the most popular communication tool in the world, and WhatsApp and Facebook Messenger are being replaced, but Google has stepped up efforts to overtake them. Are.
There has been more progress by Google on the introduction of features such as Apple's iMessage to eliminate SMS for Android users.
If you're based in the United States, Google's messaging app now officially gets better support for innovative chat features like red scripts, typing indicators and group, and photo messages.
This update is the result of years of effort by Google to obfuscate SMS.
If you do not know then 27 years have passed to SMS and the world's first short message was sent on December 3, 1992.
Google announced in November that it was updating its messaging app with Rich Communications Services (RCS).
Rich Communications Service (RCS) has been operating since 2016 and Google shared it with mobile operators and smartphone makers around the world, but its access to customers is still could not be possible due to the affordability of mobile operators.
RCS will replace the SMS or short message service in Android that has been in place for over 25 years while allowing users to send and receive chats, high-resolution photos and videos over Wi-Fi, read receipts, typing. Indicators will be able to use features such as add or remove people in group chats and group chats.
Now that this feature is available to all users across the United States, they will need a new version of bus messages and carrier services after which they will be able to use WhatsApp feature as SMS on their phones.
RCS can be turned on by opening the Android Messages app and various new chat features will appear, which will automatically start using the new protocol if your acquaintance also has the system enabled.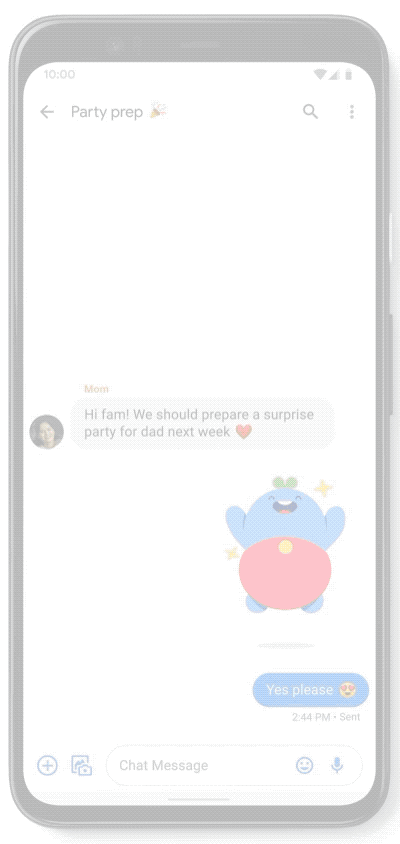 But iOS and Android users will not be able to send messages to each other and they will have to resort to old SMS.
RCS was first introduced in the UK and France this year by Google and is now offered in the US.
Google was introduced last year to Android messages in this regard, aimed at giving users a chance to get an early glimpse of the RCS and use it instead of the standard SMS app on their phones.
SMS is a 160 character service that is expected to complete in 3 decades but today's phones are more powerful and users are demanding more features and this is what has made WhatsApp and Messenger successful.
Now Google wants to push them through this new service, which will include Google's digital assistant services with other features.