Samsung has also introduced its new wireless headphones Galaxy Buds Pro with 3 S series phones. There are the new flagship headphones from the company's Galaxy Buds, named the Galaxy Buds Pro. Its design is inspired by the Galaxy Buds Plus, but according to the company, it's much better, as well as better audio quality and features like active noise cancellation.
The Galaxy Buds Pro features an 11mm woofer for a deeper sound. Similarly, Buds Pro has been significantly improved for phone calls, such as voice pick-up unit (VPU), signal to noise ratio (SNR), and new windshield technology. All of these features help mute background sounds during calls and help keep calls from being hit by the wind while traveling on a motorcycle.
Similarly, there is the feature of active noise cancellation, while the company claims that these bids block 99% of ambient sound. What's special about this headphone is that it always hears your voice, so when you start talking the ambient sound feature comes into play. A new feature is the auto switch and it allows 2 Samsung devices to be connected to this headphone at the same time, such as tablet and phone.
So, when you are watching a movie on a tablet and a call comes on the phone, Buds Pro automatically stops the movie and switches to the phone to listen to the call. As soon as the conversation is over, the movie plays again. There is also Dolby head tracking technology and game mode. According to the company, it has a 61 mAh battery that can be used for up to 5 hours continuously.
In the case of Buds, there are 472 MAE cells while fast charging facility has also been provided. The Galaxy Buds Pro will be available in pre-order from January 15 and is priced at 200 200 (over PKR 32,000).
Galaxy Smart Tag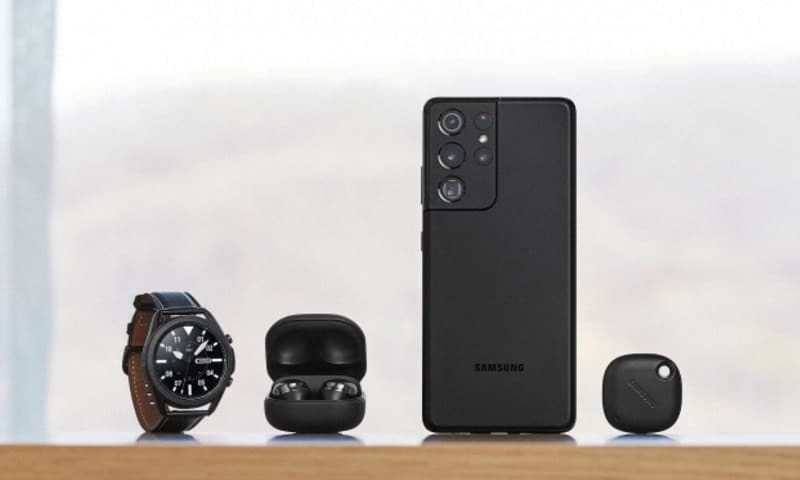 Samsung also unveiled a Bluetooth locator Galaxy Smart Tag at the event. Smart tags can be tracked by attaching them to the device, which is priced at 30. According to the company, it will have 2 models with different volumes, while an ultra-wideband version will also be available sometime this year.