Former Pakistani fast bowler Shoaib Akhtar is the most popular Pakistani cricketer on social media and because of his statements, he is very popular in Pakistan as well as in neighboring India.
Due to his high mobility on social media, where Shoaib Akhtar is honored, he is sometimes criticized, and sometimes he is trolled on social media for making loud claims and statements. ۔
Something similar happened recently when Shoaib Akhtar commented on a post from the popular cricket website Cricinfo on which he was trolled by the International Cricket Council (ICC), the governing body of cricket.
Cricinfo shared a post on its Twitter account with a picture of 20 players and said that if these players of the past and present are on the rise, which of them would you like to watch?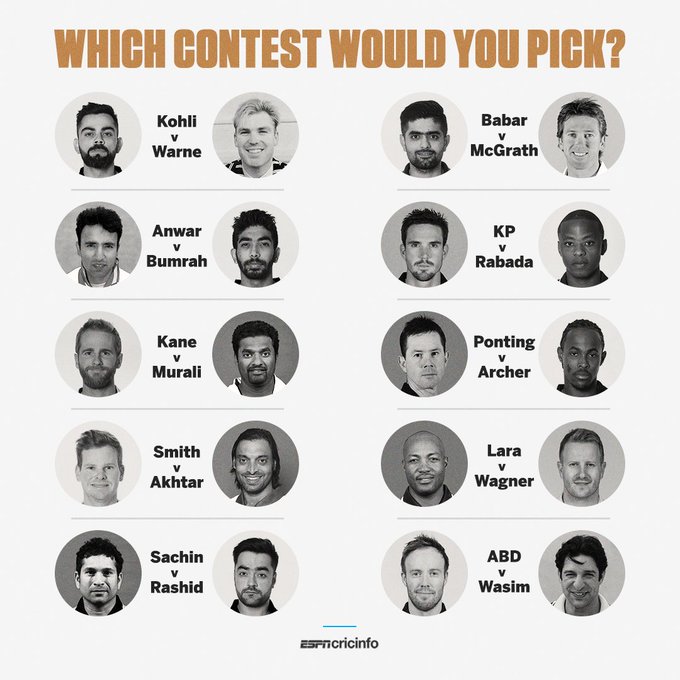 Four former and current Pakistani players were selected for the post, including Saeed Anwar, Wasim Akram, Shoaib Akhtar, and current Pakistan T20 captain Babar Azam.
In this post, Wasim Akram was pitted against former South African captain and AB de Villiers, better known as Mr 360.
Similarly, former legendary opener Saeed Anwar was pitted against current Indian fast bowler Jaspreet Bumrah and Babar Azam was pitted against former Australian fast bowler Glenn McGrath.
In this regard, Shoaib Akhtar commented on a tweet that cost him dearly and the ICC trolled him on the same comment.
Shoaib Akhtar said that even today I will get three dangerous bouncers and I will get Smith out on the fourth.
The ICC did not write a single word on Shoaib Akhtar's statement but also shared photos of Hollywood actor Vance Rams in which he can be seen laughing out loud.
It should be noted that Shoaib Akhtar is facing difficulties these days in criticizing the Pakistan Cricket Board's legal adviser Tafazul Rizvi because Tafazul Rizvi had sent him a notice of Rs 100 million in damages.
However, Shoaib Akhtar, responding to his notice, said that Tafzal Tazvi had insulted him by making allegations against him, so he should apologize to him.