The first Test of the two-match Test series between Pakistan and Sri Lanka is being played at Rawalpindi Cricket Stadium today.
Sri Lanka scored 38 runs at the end of 14 overs in their first innings.
Currently, De Mathew Cronarten and Vishwa Fernando Cruz are in Sri Lanka.
Sri Lanka won the toss and decided to bat first. When Pakistan started bowling by Mohammad Abbas and Shaheen Shah Afridi, Sri Lankan openers started the innings aggressively and the Pakistani captain had to change bowling attack only after the sixth over.
After three overs, Usman Shanwari was replaced by Mohammad Abbas for bowling.
There were two highlights of this morning's selection of the Pakistani cricket team. One full-time sniper was not included and the host team landed with four fast bowlers. Secondly, the batsman who returned to the Test team ten years later did not join Alam for the first test.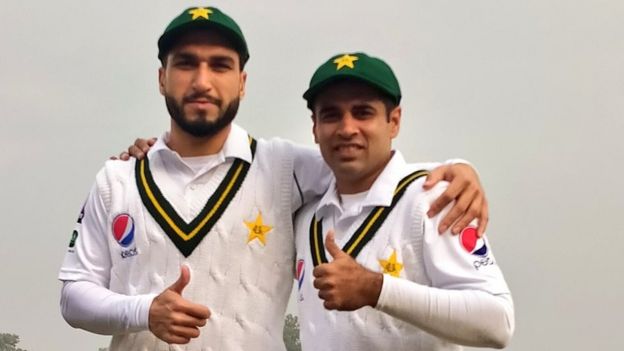 The Pakistani team includes Sean Masood, Azhar Ali, Abid Ali, Asad Shafiq, Babar Azam, Harris Sohail, Mohammad Rizwan, Usman Shanwari, Shaheen Afridi, Mohammad Abbas, and Naseem Shah.
Sri Lanka's team, on the other hand, includes Dee Mathew Cronartney, Kushal Mendes, Dinesh Chandi Mill, Angelo Mathews, Dhawan Jia De Silva, Niroshan Dick Valle, Oshida Fernando, Delran Pereira, Vishwa Fernando, Cousin Rajatha and Lahiri Kamara.
To be clear, the role of Mikey Arthur will be important in this match as he has been the coach of the Pakistani cricket team for almost three years and is now the Sri Lankan dressing room, which means that Mikey Arthur can better understand the Pakistani strategy.
Remember that the last match at Rawalpindi Cricket Stadium was played between India and Pakistan in 2004 in which Pakistan suffered an innings defeat. The highlight of the match was the Indian batsman Rahul Dravid's impressive innings of 270 runs.