The world is currently infected with the coronavirus and wherever you look, there are reports of this epidemic. The idea of ​​cricket in such days? Forget it for the next one and a half years and keep entertaining yourself with the memories of the past.
A few days ago, a name appeared under 'Today's Birthday' in the cricket calendar and many memories were refreshed.
It was February 1987, when the Pak-India match was being played in Calcutta, the largest arena in the world. Pakistan was chasing the target of 239 runs in 40 overs and its 6 players were out for 173 runs. There were only a few overs left and the 'winner of Sharjah' Javed Miandad was not on the crease and captain Imran Khan was also out.
At the time, the field was in the hands of a 23-year-old man who played an innings of 72 off just 36 balls, and the innings is still considered one of the "best ODI innings in history". The young man's name was Saleem Malik, whose 57th birthday has just passed a few days ago and now his name is circulating once again.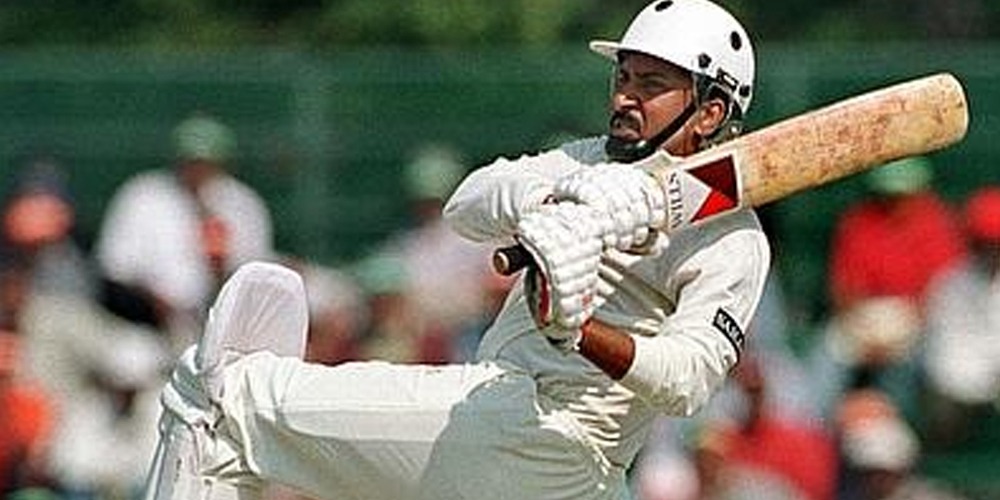 Saleem Malik reached the highest position of captain in Pakistan cricket but then he also saw the depths of decline. He became the first player in the world to be banned for match-fixing.
In 2000, Justice Malik Mohammad Qayyum had convicted Saleem Malik after a match-fixing investigation that he could not take part in any cricket activity at any level in his entire life.
He was accused of fixing matches in 4 different tours. Not only that, but Shane Warren and Mark Waugh of Australia had also testified against him that during his 1994 tour of Pakistan, Saleem Malik had tried to bribe him to perform poorly and lose the Karachi Test.
Apart from Saleem Malik, there were other big names in the investigation but only Saleem Malik and fast bowler Ata-ur-Rehman were banned. Saleem Malik could not play cricket at any level but Ata-ur-Rehman was only banned from playing international cricket. Wasim Akram, Waqar Younis, Inzamam-ul-Haq, and Mushtaq Ahmed were merely fined.
Saleem Malik also denied the allegations before the commission and later appealed to the court against the verdict but his plea was rejected, leaving him in obscurity. Even after a long time, a court lifted the ban on them. Today, 12 years have passed but the doors of cricket are still closed on Saleem Malik.
Ask my opinion personally, I am not convinced to give a second chance to anyone who has committed the heinous crime of fixing. Those who have been given the opportunity to represent the country do not deserve any concessions if they do not even realize this responsibility on their shoulders. But, yes, justice requires that everyone be equal.
In the case of cricket, it is unjust to have different standards for different players.
When all the suspected players of the '90s were somehow accepted back into cricket, when they are looked upon with respect today despite their dubious past, not only that but also the players of the plant who came after them now. What is the fault of Saleem Malik if he is free?
See for yourself, it seems like only yesterday that Pakistan's name was sunk in 2010 by spot-fixing at Lord's. Where are the perpetrators of this heinous act today? Mohammad Amir was a minor and it was suspected that he had made the fixing move due to pressure from the captain, so he was included in the national cricket team immediately after his sentencing and he is still an important part of the team.
Muhammad Asif chose the path of isolation from the world and did not turn to cricket, otherwise, he might have got a chance. But the biggest characters, Salman Butt, are seen in action everywhere, from domestic cricket to the Pakistan Super League (PSL), and also appear on television channels as off-field analysts.
Take the more recent example of Sharjeel Khan who was banned for 5 years after the fixing scandal in 2017 but his sentence was suspended after two and a half years and now he is on the playing field once again.
It is a fact that one evil cannot and should not justify another evil, but the demands of justice say otherwise. Is it fair to punish different people for the same crime? All that can be said about it is that it is true but it is a matter of shame.
Now, after so many years, the sudden appearance of Saleem Malik and his public permission to start cricket activities shows that something is definitely brewing somewhere. "I can coach the Pakistan Cricket Board at any level," he said. I was given a clean chit by the court in 2008 and there are no legal restrictions on me. When Mohammad Aamir, Salman Butt, and Sharjeel Khan get a chance, my experience can also be taken advantage of.
Then former Pakistan captain and chief selector Inzamam-ul-Haq also understands that Saleem Malik should get a second chance. "Unfortunately, Saleem Malik's career ended that way," he said. But he should get a second innings for the country, just like former captain Azharuddin was banned in India but now he is the president of the Hyderabad Cricket Association.
Inzamam-ul-Haq likened Saleem Malik's performance to that of Zaheer Abbas and Mohammad Yousuf in the past and Babar Azam among today's players and said that he has played more than 100 Test matches for Pakistan. The new generation may not know much about him but he was a great player in his time.
Combining all these links, it is clear that Saleem has already made a decision regarding cricket, now the public opinion is being smoothed before the announcement of this decision. Wait, Malik Sahib is about to appear in a new light and after the examples that have been set in the recent past, no one should feel bad about this arrival.