Indian fans show anger on Yuvraj and Harbhajan, on helping of shahid Afridi foundation
The global outbreak of the Corona virus has sparked welfare work around the world, and cricketers, like many international players, are donating in large numbers.
In Pakistan too, national cricketers have donated millions of rupees
And Shahid Afridi Foundation, the former captain of the national team, is also taking part in the distribution of donations and rations across the country.
Seeing Shahid Afridi active in the welfare work, former Indian cricketers Yuvraj Singh and Harbhajan Singh announced donations for their foundation, which brought the Indian people to fruition.

Yuvraj Singh, in his message on social networking website Twitter, said that it was a difficult time, especially for the non-elite.
"I declare full support to Shahid Afridi and his foundation for the good cause of collecting donations against the Corona virus. They also requested the people to donate," he said.
These are testing times, it's time to lookout for each other specially the ones who are lesser fortunate. Lets do our bit, I am supporting @SAfridiOfficial & @SAFoundationN in this noble initiative of covid19. Pls donate on https://t.co/yHtpolQbMx #StayHome @harbhajan_singh pic.twitter.com/HfKPABZ6Wh

— yuvraj singh (@YUVSTRONG12) March 31, 2020

Earlier, his co-cricketer Harbhajan Singh also announced to help the Shahid Afridi Foundation, saying that the world is going through a very difficult time, we should do our part to help Shahid Afridi Foundation.
Shahid Afridi thanked the two former great players for their help in this noble cause and also expressed their best wishes for the Yuvraj Singh Foundation.
The world is passing through extremely testing and unprecedented times.Let's do our bit to help @SAfridiOfficial @SAFoundationN doing gr8 work plz join hands with them nd contribute what ever u can https://t.co/t9OvfEPp79 for covid19 @wasimakramlive @YUVSTRONG12 @shoaib100mph pic.twitter.com/sB2fxCAQqY

— Harbhajan Turbanator (@harbhajan_singh) March 29, 2020
Indian fans, however, did not like the two players helping Shahid Afridi in this noble cause and he heard his former stars openly.
Thank you for all you support-both yourself & my brother @harbhajan_singh are huge pillars of support; this bond we have shows love & peace transgresses borders when it comes to humanity especially. Best wishes to you with your noble endeavours with @YOUWECAN #DonateKaroNa https://t.co/IVhqywdl3q

— Shahid Afridi (@SAfridiOfficial) March 31, 2020
Even in this difficult time, the fans are not ready to overstate the strained relations between the two countries, and some have given the entire Sikh community a treacherous medal.
The matter escalated to the extent that Yuvraj Singh once again had to explain his actions via Twitter.
Yuvraj, who won the 2011 World Cup Best Actor award, expressed disappointment at the public's behavior and said how the message of helping those in need could be turned out of context.
"I tried to convey the message that people should be helped by providing healthcare in their countries, my aim was not to hurt anyone and I am a patriotic Indian," he said.
Shahid Afridi also expressed regret over the behavior of those who criticized Harbhajan and Yuvraj in another tweet.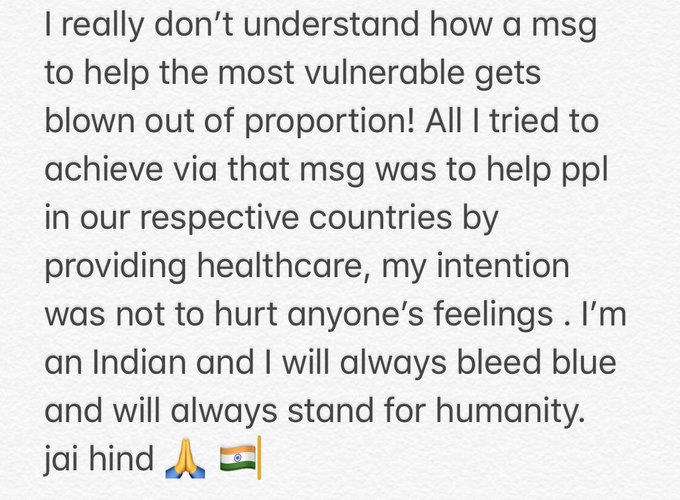 It should be noted that since Narendra Modi took office in 2014, tensions between the two countries have been steadily increasing.
Despite Pakistan's constant offer of talks and efforts, it was rejected by India continually and hence no cricket series has been played between the two countries even after more than 8 years.
India's infiltration after the Paloma incident last year created the threat of regular war between the two countries, and tensions between the two countries have been steadily rising since the special status of occupied Kashmir was abolished last year.
It should be remembered that more than 44,000 people have been killed by the Corona virus worldwide.
Chinese authorities succeeded in overcoming the virus after more than 3,000 deaths in the country from China-born virus.
However, since then, the virus has spread to Europe, the Middle East and other regions of the world, which has killed at least 12,000 people in Italy so far, while in the US, 100,000 people have been infected.
Related Posts