Former Pakistan cricket captain Shahid Afridi has contributed to efforts to help the people of Bangladesh beyond the border barriers to deal with the COVID 19 epidemic.
Mushfiqur Rahim, Bangladesh's star batsman and wicketkeeper, put the bat up for auction in connection with the Covid19 Relief Fund's efforts to score his first double century for Bangladesh against Sri Lanka in 2013. ۔
Now former Pakistan captain Shahid Afridi got Mushfiqur Rahim's bat for  $20,000.
In this regard, the International Cricket Council (ICC) also appreciated Shahid Afridi's move and said in a message on the social networking website Twitter that "Mushfiqur Rahim has found a buyer".
The ICC wrote that "Pakistan's all-rounder Shahid Afridi has joined the good cause by buying from his organization."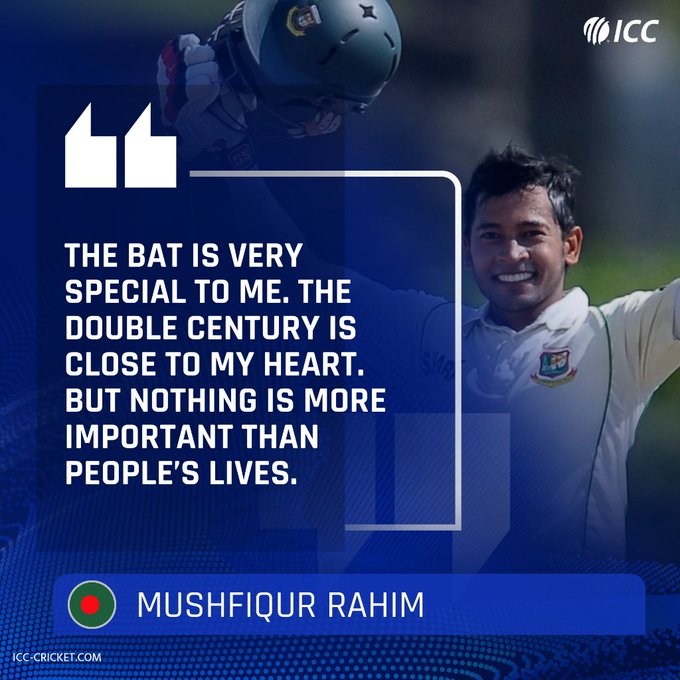 On the other hand, Mushfiqur Rahim in Dhaka paid rich tributes to Shahid Afridi for his cooperation for this great cause.
"I really appreciate Shahid Bhai for contacting me and offering to help," he said.
"In this crisis, we are united across the border and we are expressing it to our country's citizens," said the veteran Bangladeshi player.
On this occasion, Shahid Afridi said that this issue is not a matter of a nation but a goal.
Mushfiqur Rahim added, "I enjoy playing with them on the field, whether I play with them or against them. I think people from other walks of life should go out and help."
He said that he would send Shahid Afridi by courier service in a few days.
In addition, Shahid Afridi said, "I have always received love and affection from the people of Bangladesh and when I came to know about Mushfiqur Rahim's work, I contacted him and offered to contribute according to my status."
"Such co-operation and respect can bring the people of the two countries closer together," he said.
It is estimated that 20,995 cases of coronavirus have been reported in Bangladesh so far, while a total of 314 people have died due to the epidemic after 16 more deaths.
In Bangladesh, 930 new cases of coronavirus were reported, after which the total number increased further, while 4,117 people have recovered so far.
It is to be noted that in the last few weeks, there have been fierce protests by the Bangladeshi people despite the lockdown to restore jobs in industries and end unemployment.
The people demanded that salaries be released from the industries concerned and arrangements be made for the wage earners.