UK Hospital Introduces sterile Disposable Hijab
UK hospital introduces sterile 'disposable hijab'
A UK trust hospital says they have introduced the first disposable (sterile after use) and sterile scarves for their staff to use in operation theaters.
The idea came to Muslim junior Dr. Farrah Ruslan during his training at the Royal Derby Hospital.
They say they saw the idea in their traditional hijab because of the germs they wear all day.
Hopefully, it can be introduced nationally, but the National Health Service in England says the option to use it depends on the hospitals individually.
Dr. Farah, who works in the UK-based Lincolnshire, says he came to the idea when he was a medical student at Derby and Burton's hospitals affiliated to the university.
"I was wearing (the same scarf) all day, which was definitely not appropriate and clean".
'I didn't feel good about taking it off and I was told to go out of the operation theater to look for germs.'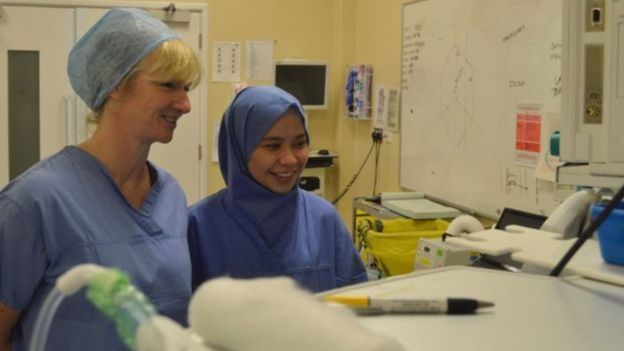 she says that there was a need to find a beach path where you could 'dress up in your faith' and also go to the operation theater to fulfill your career passion.
Prior to her experience designing this scarf, Dr. Farah sought help from Malaysia to get ideas about where she was born.
"I am really happy and hope if we can introduce it across the country," she says.
Consultant Surgeon Gul Tierney, who is Dr. Farah's mentor, says his hospital is the first country to introduce this headscarf in the UK.
"We know that this is a serious issue in operation theaters across the country, but I think it has never been regularly addressed," she says.
"The cost of this (scarf) is not high and I hope the results will be excellent."
Derby and Burton's hospitals affiliated with the University of the UK's National Health Services Trust say the new headscarf will be available for use for the first time since December this year.
Related Posts