The renowned chef Floyd Cardoz is killed by the Corona virus in the US state of New Jersey.
The 59-year-old Floyd Cardoz was diagnosed with the Corona virus a few days ago, according to a CNN report by the US broadcaster.
A statement issued by an American restaurant called Hunger Ink confirmed the news of the death of Floyd Cardoz.
In the statement, he said he was sharing the news of the death of Floyd Cardoz with great sadness.
Floyd Cardoz was the Clinical Director at this restaurant.
According to the report, the Corona virus was confirmed on March 18 this year in Floyd Cardoz, after which they were treated at Mountain Side Medical Center in New Jersey.
It is important to note that Floyd Cardoz is one of the successful chefs who have also won the popular ShowTop Chef Masters competition in America.
In an interview to CBC in 2017, Floyd Cardoz said he read a book called 'Hotel' after which he decided to become a chef.
In this interview, he said, "After reading this book, I started cooking and then I realized how good I can cook."
Floyd Cardoz was born in the Indian city of Mumbai, completed his education in Switzerland, and then moved to New York.
During his career, he connected with many famous and successful restaurants, including restaurants such as 'Tabla', 'North and Girl', 'Powwala', 'Bombay Bread Bar', 'Bombay Canton'.
He also authored two books on food, called 'One Spice, Two Spice' and 'Flower Wala'.
According to reports, Floyd Cardoz went to the hospital on March 17 after a medical malady, after which he was admitted to the hospital.
He was also involved in the shooting of Netflix's 'Next Delicious', which he recently returned to New Jersey from India.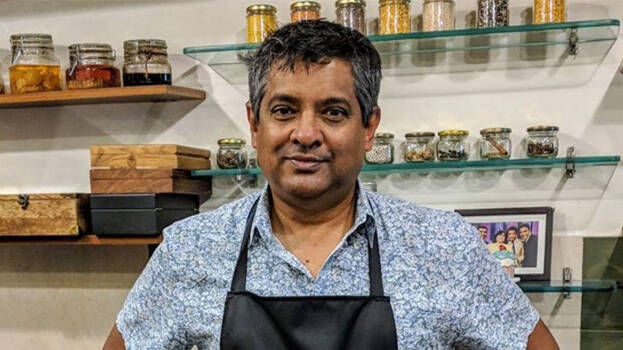 The renowned American author and David Cheng also shared a photo with Floyd Cardoz on his Instagram account and lamented his death.
Famous TV chef Madhur Jaffrey expressed surprise at the news of the death of the Floyd Cardoz, saying that he wanted to do more in his life.
According to another chef Preeti Mastri, 'he left the world, I am very sorry about this, I am very angry with the virus'.
According to chef Michael Anthony, there was a lot to learn from the Floyd Cardoz, his personality was impressive.
Floyd Cardoz leaves mother barrel, widow Barkha and two sons Justin and Peter.