The company introduced 2 Concept Foldable Phones
The Foldable phone was launched last year from Samsung's Galaxy Fold, which didn't impress much, which came a few days after the Huawei Mate X.
Then the Motorola Razer and Galaxy Z Flip phones were introduced with different designs, but it seems that instead of foldable phones, there are now going to be rollable or scrollable phones.
TCL has been known for budget-smart TVs, but the concept of foldable phones has been in the making for quite some time and now some of its unique designs have come out.
The first phone, whose photos were leaked by Cnet last month, was equipped with a slide-out display, and now its prototype model has been introduced by the company.
This week, the company introduced the prototype of this scrollable or slidable phone to the media.
This phone is usually seen in the view, but when the phone's frame is pulled, the screen expands.
Photo courtesy of C Net
The phone usually has a 6.75-inch display, but when it is opened it goes to 7.8-inch.
The company says it is currently a dummy prototype and is working on a working prototype, which will include the automatic opening and closing mechanism.
The phone has a 5000 mAh battery but still looks slim.
By the way, this is not the only COSNIPT phone but the company has introduced another phone which opens in 3 parts.
Makes 6.75 inches in closed shape and 10-inch tablet after opening.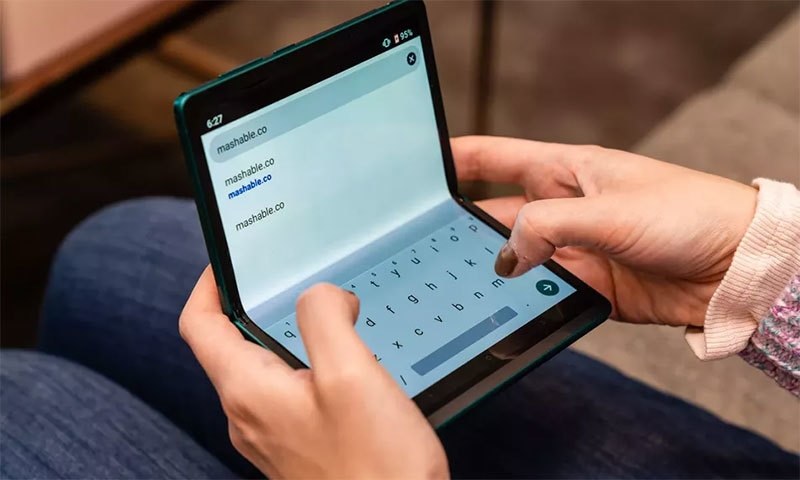 Photo courtesy of Meshable
The concept phone will work on an Android operating system with 4 cameras on the back, including one main sensor, the other a low light, the third a spider angle and a fourth macro sensor.
Both of these phones are not currently available to general users soon
Related Posts