In Pakistan, TECNO has finally released the much-anticipated and first-ever Gimbal Camera phone. Camon 18 Premier, Camon 18P, and Camon 18t are the three phones in the recently announced Camon 18 series. The phones are available for purchase in both online and offline markets.
Camon 18 Premier is the series' most expensive handset, costing PKR 55,999. The Gimbal Camera, 60x Hyper Zoom, a 120Hz AMOLED Display, 32MP front & 64MP rear cameras, 8+256GB Storage and the G96 Processor are all included.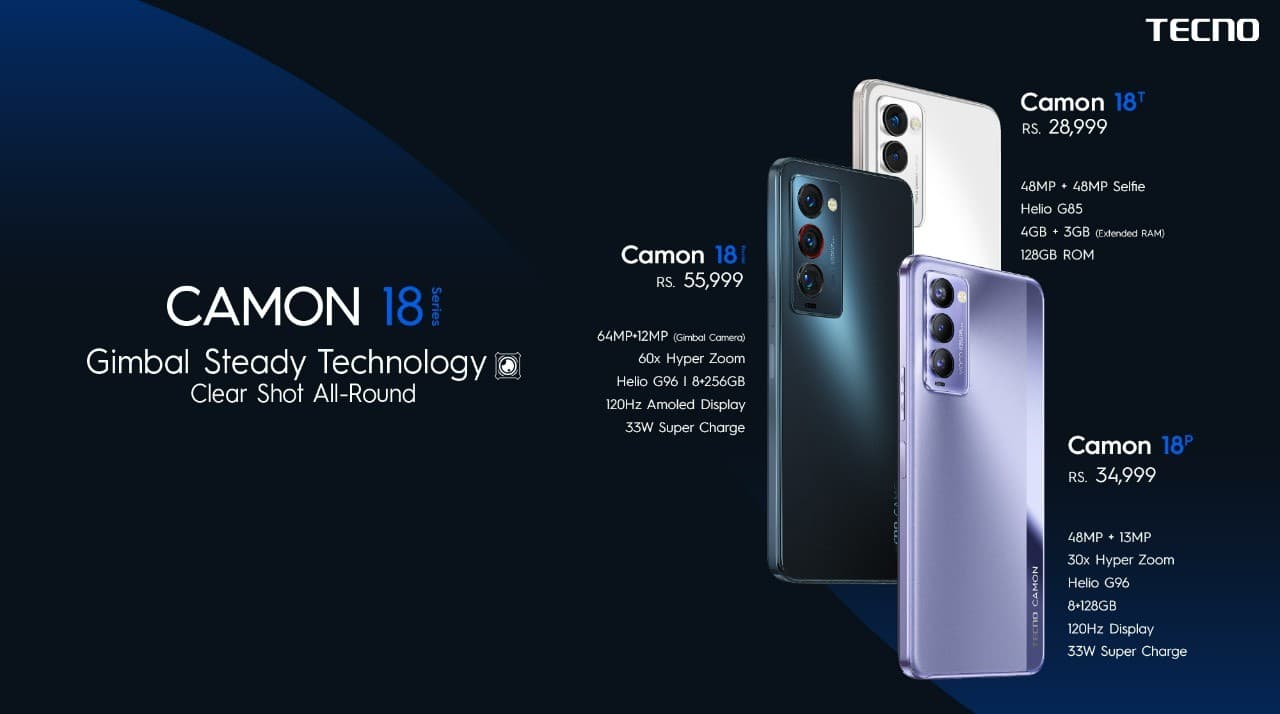 The Camon 18P comes with a G96 processor, 8+128GB storage, 16MP front and 48MP rear cameras, and a 120Hz FHD display for PKR 34,999. The last phone in the series, the Camon 18t, costs just PKR 28,999 and features 48MP front and rear cameras, as well as a G85 processor, 4+128GB storage, and a 1080 FHD display.
Kelvin Zeng, the CEO of TECNO Mobile Pakistan, expressed his delight at the event.
"We are ecstatic to announce the debut of Pakistan's first-ever Gimbal Camera Phone. With its steadiest and cleanest captures, Camon 18 Premier will be a game-changer for professional videographers. The series is outfitted with cutting-edge camera lenses and technologies to provide users with a professional experience. We anticipate a favorable reaction from local consumers, as TECNO strives to provide the best for its customers."
The phones will be available in a variety of hues, including Ocean Moonlight and Summer Breeze for the Camon 18 Premier. Camon 18P and Camon 18t will be available in Dusk Grey, Iris Purple, and Ceramic White, whereas Camon 18P and Camon 18t will be available in Dusk Grey, Iris Purple, and Ceramic White. So buy your greatest camera phones as soon as possible!
Follow TECNO's official website and social media sites for additional information.