A man who injured at least three dancers with a knife during a fun festival in Riyadh, Saudi Arabia's capital, last year was executed.
The 33-year-old Yemeni-born al-Qaeda member Emad al-Mansouri was hanged, according to a BBC broadcast by the BBC.
Emad al-Mansouri attacked a dance performance event on November 11, 2019, at a fun festival in the capital Riyadh.
Emad al-Mansouri attacked the dancers of other countries, including dance performer Spain, with a knife and at least 3 people were injured in the attack.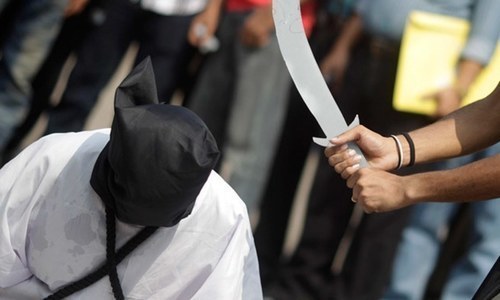 After the attack, security officials arrested Emad Al-Mansoori and presented him in court, where he was tried under murder and terrorism provisions.
According to the report, Saudi authorities prosecuted another person, including Emad al-Mansouri, under various charges in a special court.
The court sentenced Emad al-Mansouri to death for allegedly being the interim head of al-Qaeda in Yemen and for spreading terror in Saudi Arabia, while his other partner was sentenced to 12 and a half years in prison.
Following the court orders, the Saudi Interior Ministry hanged Emad al-Mansouri.
It is to be noted that in the past few years, where cinema houses have been opened in Saudi Arabia, women have also been allowed to try their luck in the acting, singing and fashion industry.
Now in Saudi Arabia, women not only appear to be employed in public places with non-mahram men, but they also appear to work with male gentlemen in the world of showbiz.
For the past 2 years in Saudi Arabia where music festivals have been held, women's fashion shows and entertainment festivals are also being held.