New US sanctions prove ineffective of previous sanctions, Iran
Iran has rejected US sanctions on its officials, saying the sanctions are proof of the ineffectiveness of previous US sanctions.
Iran's foreign ministry spokesman Abbas Mousavi said repeated US sanctions on Iranian officials were a sign of the US administration's weakness, frustration, and futility.
On Wednesday, the United States imposed sanctions on seven key officials, including the Iranian interior minister, for alleged human rights abuses.
The US Treasury Department says Iranian Interior Minister Abdolreza Rahmani-Fazli ordered law enforcement agencies to use force during anti-government protests in November that killed dozens of people, including 23 children.
It should be noted that thousands of people protested on the streets of Iran on November 15 last year against the government's increase in fuel prices.
The protest later turned political, with protesters burning posters of senior Iranian leaders and clerics demanding their resignation.
Iran's Supreme Leader Ayatollah Ali Khamenei called the demonstration a major conspiracy by Iran's enemies.
Figures released by an opposition party website in January claimed that at least 631 people had been killed as a result of the use of force in the protests.
However, according to Amnesty, the death toll from the violence against protesters was about 300.
Iran has rejected both figures, and the judiciary has sentenced several protesters to long prison terms.
The United States has imposed new sanctions on Iran, despite calls from the United Nations and other countries to lift sanctions.
Tensions between the United States and Iran escalated when US President Donald Trump announced the termination of the nuclear deal with Iran in 2018 and imposed trade and economic sanctions.
However, other international parties to the agreement, Britain, Germany, France, Russia, and China, have announced that they will continue their agreement with Iran.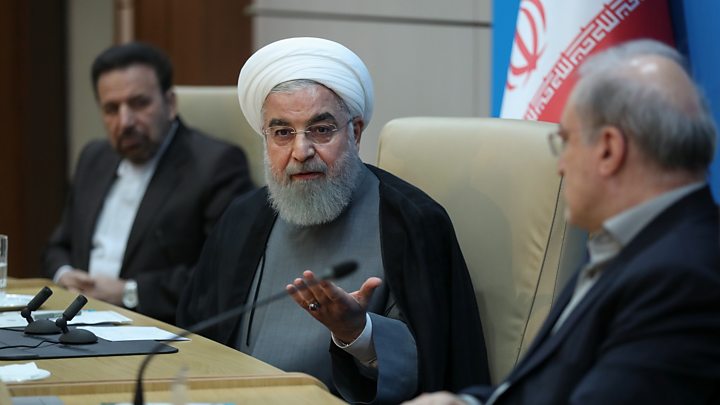 On September 21 last year, the United States directly blamed Iran for the attacks on Saudi Arabia's oil facilities and announced a ban on Iran's central bank, the National Development Fund, and the financial company Etemad Trade Pars.
But tensions between the two countries escalated when a US drone strike killed General Qasem Soleimani, head of Iran's Quds Force after Tehran threatened the United States with dire consequences.
Iran fired 15 ballistic missiles at two US and allied military bases in Iraq in response to Qasim Soleimani's death, injuring several soldiers.
Related Posts