George Floyd's death: New provisions imposed on all fired policemen
The United States has imposed new charges against all fired police officers in connection with the death of George Floyd, an African-American black man.
According to court documents, a case of second-degree murder has been registered against police officer Derek Schwein. At the same time, other police officers have been charged with aiding and abetting the killing. Following the death of George Floyd, there has been an uproar in the United States against racism. Demonstrations have been going on in several cities across the country for the past week. Violence and looting have also taken place during protests in many places.
Announcing the new sections against police officers, Minnesota Attorney General Keith Ellison said those sections are in the interest of justice. Under Minnesota law, first-degree and second-degree homicide charges must provide evidence that the killer intended to kill. Generally, first-degree murder is charged with intentional homicide, while second-degree murder is charged with murder committed out of emotion or anger.
To be convicted of third-degree murder, one does not need to provide evidence that the accused wanted the victim to die, only to prove that what the accused did was dangerous and did not intend to take human life. If convicted, he could face up to 40 years in prison if convicted of second-degree murder. Third-degree murder, on the other hand, is punishable by up to 25 years in prison.
On the other hand, Floyd's family lawyer, Benjamin Krump, said in a statement: "This is an important step towards justice and we are grateful that significant action is being taken before Floyd's funeral."
Demonstrations and violence
Demonstrations against police discrimination against black people in the country continued for the eighth night after the death of George Floyd in police custody in the United States and have spread to many cities. A curfew has been imposed in 40 cities following the violence, but protesters have walked out despite curfews in several cities.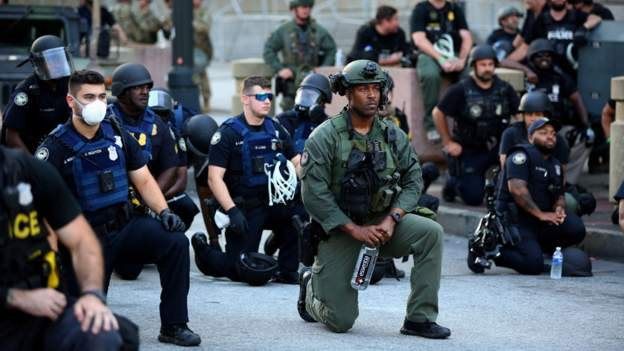 In addition, George Floyd's hometown of Houston hosted a peaceful march with his family today, with an expected 20,000 participants. In addition to the United States, there have been demonstrations in several European countries, such as Paris and London, against the assassination of George Floyd and the racist treatment of black people by police in the United States. During the May 25 arrest of George Floyd in Minneapolis, police allegedly used excessive force, resulting in his death.
Following the incident and the protests, the state of Minnesota has filed a civil rights lawsuit against its police department. Governor Tim Wallace told reporters that the lawsuit was aimed at ending "organized racism that has been going on for generations."
In the capital, Washington DC, 1,600 troops have been deployed to various parts of the city. Pentagon officials say the deployment is aimed at assisting civilian officials in ongoing operations.
Watch all of this. pic.twitter.com/YHq0QhXrnw

— Gadi Schwartz (@GadiNBC) June 2, 2020
"Some cowards fired at the police officers and four of us are in the hospital," Col. John Hayden Jr., the local police chief, told reporters. Thank God they are alive." In addition, people broke into the well-known New York department store Macy's and looted a Nike store, while breaking the windows of several other shops and banks. Many people have been arrested in the case and a curfew is being re-imposed in the city from 8 pm on Tuesday. Floyd's death refreshes the deep wounds of racism and racism perpetrated by police in the United States. The incident follows the assassination of Michael Brown in Ferguson and the assassination of Eric Garner in New York. It should be noted that after the last two murders, there was a campaign like 'Black Lives Meter' which means 'the lives of black people are also important'.
For many, this wave of resentment reflects the frustration caused by years of socio-economic inequality and the isolation of different races.
Related Posts