In a defamation suit filed by Hollywood actor
Johnny Depp
against his ex-wife Amber Heard in a US court, the female doctor testified and told the court that
Amber Heard
was suffering from mental illness. According to the Associated Press (AP), Dr. Shannon Curry, a female psychologist hired by Johnny Depp, stated in her affidavit that Amber Heard's medical records show that she has a mental illness. Have been hunting.
According to the doctor, they have checked the medical records of Amber Heard, which shows that the actress has been suffering from mental illness like 'Personality Disorder' or 'Borderline Personality Disorder'. A person suffering from the above mentioned disease or problem suffers from different tendencies or habits at the same time. Such a person is usually called a person with multiple personalities.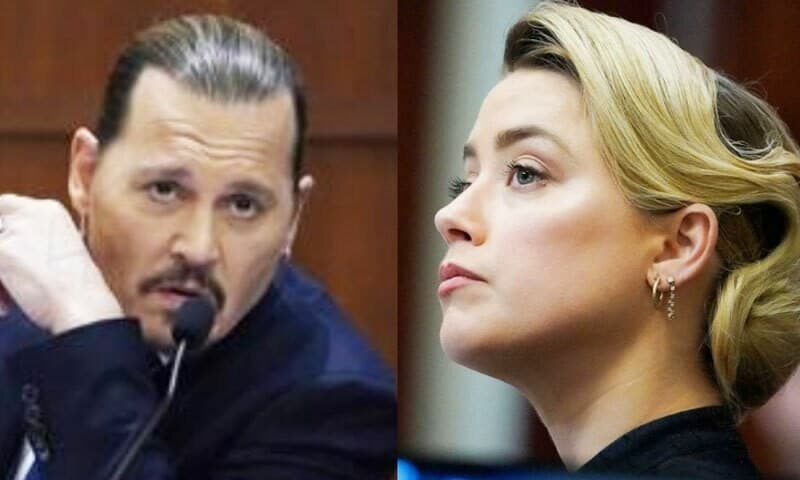 People with such a disease are treated differently in front of the general public in a different way, while on a private level they are treated in a different way and there is a lot of anger in them. Such people are also violent while always telling and misunderstanding others Are According to the female doctor, she is not making a personal statement about Amber Heard's disease, but she is saying in the light of the findings obtained by science that the actress has been suffering from mental illness.
The female doctor told the jury that she did not associate Amber Heard's torture of her ex-husband with her illness, only that she wanted to tell the court that the actress was suffering from mental illness. The case is being heard by a seven-member jury while four additional members are also part of the jury. The trial, filed by Johnny Depp, began on April 13 in Fairfax County, Virginia.
The trial is expected to last 6 to 8 weeks, with the case likely to be decided by the end of July or mid-August 2022. Before the female doctor's statement was sworn in, Johnny Depp had completed his statement the day before and was also questioned by Amber Heard's lawyers. During his statements and interrogation, Johnny Depp repeatedly denied allegations that he had abused his ex-wife.
The actress had claimed before the court that her ex-wife used to torture her, they also broke her finger. The last hearing of the case was held at the end of 2020, before the formal trial began, after which its hearings were postponed due to Corona. After Johnny Depp filed a کروڑ 50 million lawsuit against his ex-wife in 2019, Amber Heard also filed a 10 100 million counterclaim against him.
Johnny Depp filed the lawsuit against his ex-wife after Amber Heard revealed in an article in the Washington Post that she had been a victim of domestic violence in her married life.She did not name her ex-husband in the article, but according to Johnny Depp, Amber Heard was referring to her, which caused her to suffer mental stigma, including stigma.
The lawsuit alleges that Johnny Depp filed a 50 million lawsuit against his ex-wife, Amber Heard. The lawsuit was filed by Johnny Depp in March 2019 after his ex-wife, Amber Heard, wrote an article in a newspaper. Johnny Depp's ex-wife wrote an article in the Washington Post about domestic violence against women, the subject of domestic sexual harassment. In her article, Amber Heard called on US government agencies to take tougher measures to protect women from domestic violence, domestic sexual harassment and exploitation.
In the article, she clarified that she had been a victim of domestic sexual abuse, violence and harassment for a long time and despite being known, she could not speak openly on the issue. The actress did not use the name of her ex-husband Johnny Depp in her article but she was referring to him.
Criticism of Johnny Depp escalated after the article was published and his career was in jeopardy, after which he filed a 2019 50 million lawsuit against Amber Heard in March 2019, in response to which Amber responded. Heard also sued him for 100 million.
Amber Heard and Johnny Depp formed a relationship in 2011 and were married in February 2015. Fifteen months after the marriage began, Amber Heard filed for divorce in June 2016, accusing Johnny Depp of violence, and the two divorced in 2017.
More about this source.