Canadian Prime Minister Justin Trudeau confirmed on the social networking site Twitter that the wife was infected with the Coronavirus.
"Unfortunately the results of Sophie's Coronavirus have come out positive, so they will be quarantined right now," Justin Trudeau wrote in a tweet on his Twitter account.
He further wrote that the minor symptoms of corona have been reported in Sophie and she is taking care of herself following the doctor's advice.
In another tweet, Justin Trudeau wrote, "I am feeling better and I have no symptoms of the virus, but I will also keep myself isolated, following the doctor's advice."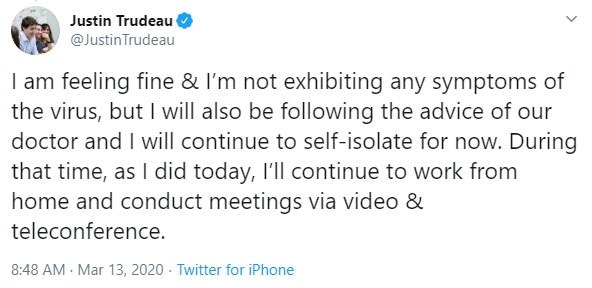 According to the Canadian Prime Minister, he will be working from home during this time, and will be part of the meetings via video and teleconference.
Just think that Justin Trudeau had quarantined himself in the wake of concerns over his wife being infected with the Coronavirus.
A statement from his office said that the Prime Minister had isolated himself for fear of the Coronavirus.
The move was made by the Prime Minister of Canada when his wife returned home after attending an event in the UK and showed the slightest signs of Corona.
There are 103 confirmed cases of coronavirus in Canada.
The World Health Organization (WHO) has declared the new Novel Coronavirus a universal pandemic as it has spread to more than 100 countries.
It is thought that the Coronavirus first started to spread in Wuhan city of China in December and so far it has affected more than 117000 people in 107 countries and killed 4251, but more than 65 thousand have recovered. 
The severity of the virus has now dropped significantly in China.
There is currently no treatment and vaccine for cod 19, but most people are cured by treating the symptoms, a good means of prevention is to clean hands, avoid touching the face, avoiding approaching sick people While coughing or sneezing should also cover the mouth or tissue.