On May 12 in Kabul, the capital of Afghanistan, a government hospital run by the international organization Doctors Without Borders,
 Terrorists attacked the maternity ward and killed newborns and mothers.
At least two infants were also killed in the terrorist attack, while a total of 24 people, including newborns, were killed in the terrorist firing.
The killing of infants and mothers saddened sensitive people not only in Afghanistan but all over the world.
However, a girl who was shot by terrorists in the same attack survived and was hit by not one but two bullets.
According to the British newspaper The Times, the baby girl, who was born three hours before the terrorist attack on the maternity ward of the Kabul hospital, survived despite being shot twice in the leg.
According to the report, three hours before the attack, the girl was born with two bullets in one leg and all the staff, including the doctors, feared that her life would not be saved, however, the girl remained safe.
The three assailants held the hospital hostage for an hour

Unfortunately, Nazia, the mother who gave birth to the baby girl, died in the terrorist attack and the girl's father named his daughter after his wife.
The girl was taken to Indira Gandhi Hospital in Kabul after being injured, where doctors operated on her, and within hours of the operation, she began to shake her leg.
According to experts, they are amazed at how such a young girl survived the bullets and expressed hope that the newborn girl will recover sooner than older people.
On the other hand, according to a report of the news agency AFP, a woman gave birth to a child at the same time when the terrorists were firing in the maternity ward.
The report quoted the hospital's female nurse as saying that while a ward of the maternity clinic was under fire,
At the same time, a woman gave birth to a child in another ward, during which the woman was instructed to remain silent and not to cry or cry despite the pain.
The nurse said that after giving birth to the baby, the mother put her finger in the baby's mouth to stop the baby from crying and she herself quietly endured the pain and suffering.
An hour later, when the situation returned to normal, the woman was given second aid.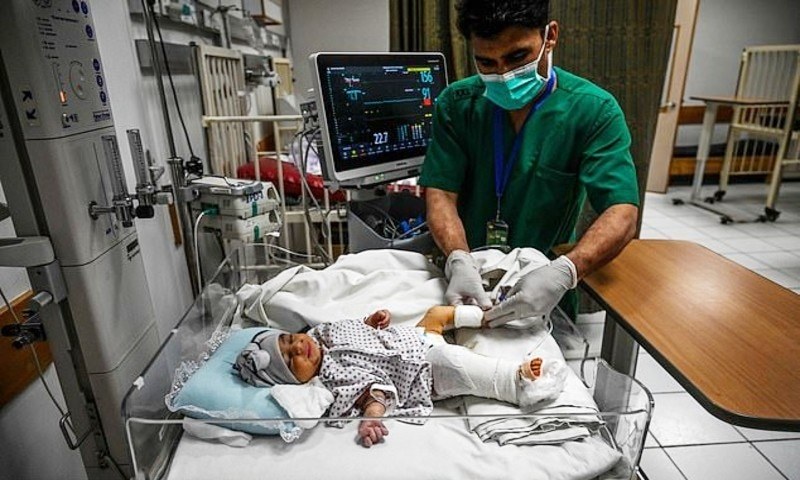 The baby's condition is out of danger after the operation, doctors said.