As soon as the teaser of Hollywood fantasy science fiction 'Eternals' came out, the people of South Asia and especially Pakistanis and Indians were praising the teaser. "Eternals" is based on the story of superheroes with special abilities who land on Earth from another world, who is seen trying to save humanity by fighting the demons that inhabit here as soon as they land.
'Eternals' is directed by Oscar-winning Asian filmmaker Chloe Xiao and stars Angelina Jolie, Salma Hayek, Kit Harrington, Gemma Chen, Richard Maiden, Bollywood comedian Harish Patel, Don Lee, and Pakistani-born Hollywood actor Kumail Nanjiani will appear in this action movie. Kamil Nanjiani is the first Pakistani and South Asian actor to appear as a superhero in any Hollywood movie.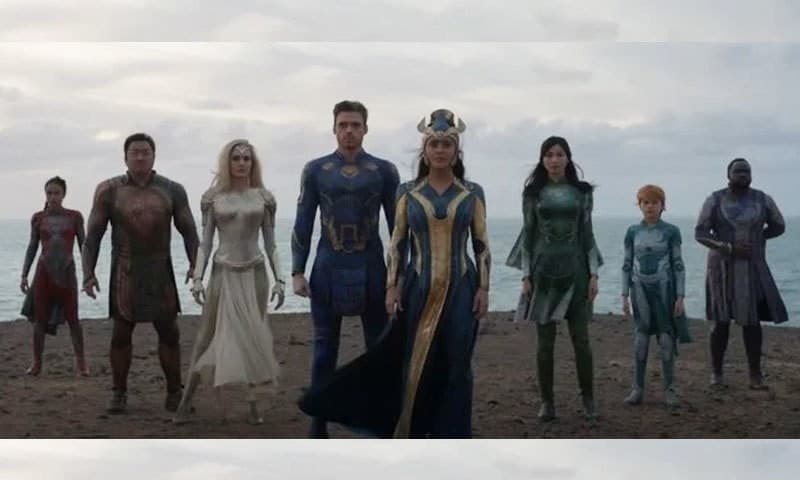 The short teaser of the film was released by Marvel Studios earlier this month and it was said that 'Eternals' will be released in November this year but now a new teaser of the film has been released, in which the Pakistani-born actor Indigenous style dance is also shown. It is difficult to understand the story of the film from the short teaser but it can be guessed that the film will not only show the battle of the devils and the group of superheroes who are fighting for the promotion of humanity on earth but it will also have romance.
The teaser also features a glimpse of Angelina Jolie's character 'Thena', with earlier reports that she may be seen playing the role of 'Cersi'. However, in the teaser, the role of 'Cersi' will be played by British actress Gemma Chen while her spouse 'Acars' will be played by Richard Madden. In the film, Kamil Nanjiani will be seen playing the role of 'Kongo', a member of the group of 'Eternals' superheroes, while Salma Hayek will be seen playing the role of the leader of the superheroes in the role of 'Ajak'.
The film will also feature Bollywood comedian Harish Patel who will be seen as a companion of superheroes. While South Asian actors like Kamil Nanjiani and Harish Patel will be seen in action in 'Eternals', the film will also feature indigenous dance and costumes, which are already being praised by Marvel Studios.
In the short teaser, Kamil Nanjiani is also seen dancing with many dancers in Bollywood style in South Asian costumes. The film will be released in cinemas on November 5 this year, but where cinemas will be closed due to the Corona epidemic, the film is likely to be released on streaming websites.