Two prominent actors of the Pakistani showbiz industry, Manzar Sehbai and actress Samina Ahmed got married on April 4 this month and started a new journey in their lives.
At that time, only a few pictures of her wedding ceremony came to light and fans were eager to see more pictures of her.
And now Samina Ahmed herself posted another picture on social media in which Manzar Sehbai was seen wearing a ring.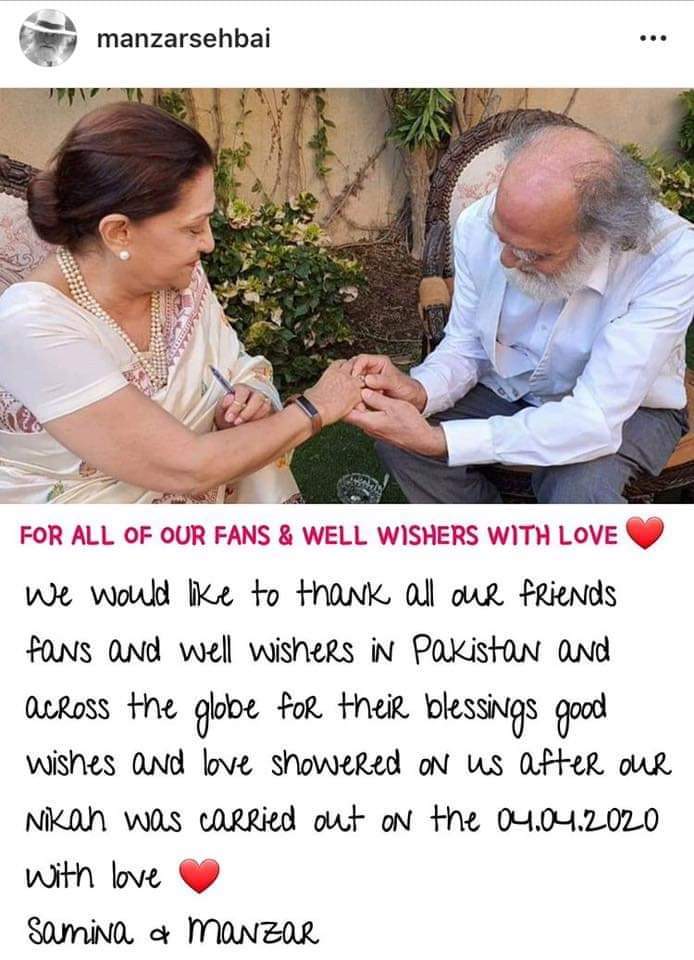 The two actors also thanked their fans for this photo.
Sharing the photo, Manzar Sehbai wrote, "We thank our fans and friends all over Pakistan and around the world, who have given us so much love".
 Samina Ahmed had clarified that only her and Manzar Sehbai's family were present at her wedding and no one was invited.
During the ceremony, Samina Ahmed looked very beautiful in a white saree. On the other hand, Manzar Sehbai also wore a white dress.
This is Samina Ahmed's second marriage. She was first married to Pakistani filmmaker Fariduddin Ahmed. However, a few years later, they separated. They also have a son.