What message did Rishi Kapoor give to the fans in his last video in the hospital?
Legendary Bollywood actor Rishi Kapoor has died suddenly in Mumbai after battling cancer for two years.
Following the news of the actor's death, his fellow actors and fans expressed their grief on social networking sites while paying tributes to Rishi Kapoor.
In such a situation, a video of the late actor Rishi Kapoor is also going viral on social media, in which he is present in the hospital bed while he is accompanied by medical staff.

It is being claimed on social media that the video was made a few hours before Rishi Kapoor's death when he was undergoing treatment at the hospital.
In the video, Rishi Kapoor was seen listening to songs while giving a message to the youth.
He said in his video that "fame comes after hard work, as long as hard work and a little bit of luck go hand in hand, the fruits will grow on the trees on their own".
The actor's video is going viral on social media.
Last Day in hospital , with hospital staff Mumbai #RishiKapoor #RishiKapoorrip pic.twitter.com/GXTI7wmEeo

— Jalaj chaudhary (@JALAJ5) April 30, 2020
On the other hand, the Times of India has claimed that the video was not a few hours before Rishi Kapoor's death but in February this year when the actor was admitted to the hospital for his examination.
It may be recalled that after the death of Rishi Kapoor, his family also issued a statement to the fans.
"After battling leukemia for two years, our beloved Rishi Kapoor passed away peacefully at the hospital at 8:45 am this morning," the statement said. Made them happy
According to the statement, Rishi Kapoor was very enthusiastic and happy during the treatment and he believed in living his life to the fullest. During this time, everyone who met him was surprised to see that Rishi Kapoor remained determined despite his illness. ۔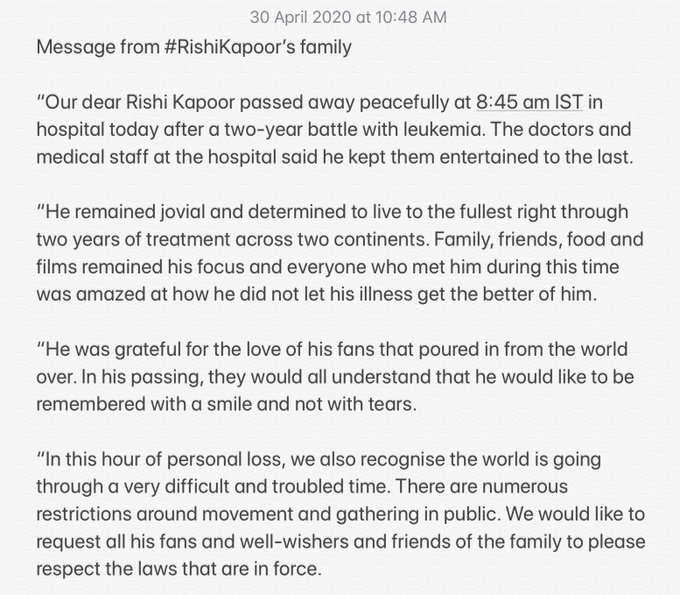 According to the family, "Rishi wanted his fans to remember him with tears and smiles even after he passed away."
"At a time like this, we also realize that the world is going through a very difficult time. At this time, movement and large gatherings are banned. We ask fans and family friends," he added. That they respect the law at this time.
Rishi Kapoor's last rites were performed at Mumbai's Chandanwari crematorium.
Related Posts