Actress and model Uzma Khan's lawyer, who was allegedly tortured by the daughters of Malik Riaz, a well-known Pakistani businessman, and owner of the Bahria Group, has announced her withdrawal from the case. Lawyer Khadija Siddiqui told the Gossip on Monday night that she had made the decision following reports of an alleged settlement between the parties.
According to correspondent Omar Daraz Nangiana, she said she felt it was not her client's fault but the defeat of the system that had disappointed her.
It is to be noted that so far no settlement has been confirmed or denied by the parties to the case but Khadija Siddiqui said that she has received information about the settlement from credible sources and she does not think that it could be wrong and if Even so, she will not be part of Uzma Khan's legal team again.
Speaking on Twitter about the withdrawal, Khadija Siddiqui said, "She can understand the reasons for the settlement by the two affected women in an inflexible system. However, their conscience does not allow them to be part of this (settlement) professionally.
She also said that her "struggle against lawlessness will continue."
Uzma Khan and Huma Khan's lawyer announced their separation from the case on Monday at a time when the Lahore Sessions Court had ordered the authorities to release Malik Riaz's two daughters Amber Malik, Pashmina Malik, and Amber Malik. Niece Amna Usman Malik has been barred from arrest until June 15.
Additional Sessions Judge Farrukh Hussain granted interim bail in exchange for bail bonds of Rs 50,000. In the petition, the three women were of the view that they were innocent and the case against them has been registered contrary to the facts.
Action on request by Uzma Khan
Earlier, Judicial Magistrate Ghulam Shabir Sial of Cantt Court in Lahore, the capital of Punjab province of Pakistan, had issued arrest warrants for Amna Usman, Pashmina Malik, and Amber Malik. It is to be noted that the police have registered a case against Amna Usman and others on charges of breaking into the house and causing damage to valuables. The case also includes provisions for threatening and injuring with serious consequences.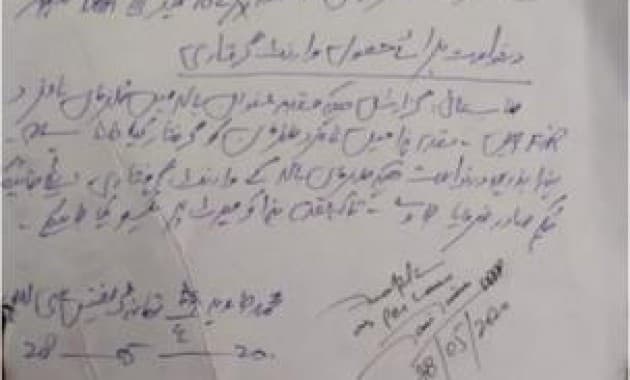 Some videos have been circulating in Pakistan for the last few days. In these videos, it can be seen that three women armed guards enter the house of the actress 'Uzma Khan', and they and her sister are tortured and household items are vandalized.
In the first video, a woman can be heard asking actress Uzma Khan and her sister Huma Khan about her alleged relationship with her husband. The woman in question does not appear in the video herself. Following the video, more videos related to the alleged incident surfaced on social media on Wednesday, after which Uzma Khan alleged that the daughters of a prominent businessman allegedly broke into her home with their guards, tortured, and harassed him.
Earlier, in a press conference at Lahore Press Club on Thursday, Uzma Khan's lawyer Mian Ali Ashfaq had said that her client and Usman Malik had been in a relationship for the past two years and they wanted to marry Uzma but in December 2019. This relationship was terminated by Uzma Khan but still, Usman Malik kept in touch with her client. In this press conference, Uzma Khan refuted the claim of Usman Malik's wife Amna Usman that she had given him warnings many times before.
She said that her first meeting with Amna Usman was when he raided her house. Uzma said that he had never met Amna Usman before and never talked on the phone. Uzma Khan claimed that Usman Malik was still texting and calling her and she would prove it in court.
Uzma Khan's lawyer told a press conference that the ownership of the house was not in Usman Khan's name and the lease was not in her name. She said that the owner of the house is Babar Naseem who is not a relative of Usman Malik but a close friend of Uzma.
Actress and model Khan Uzma Khan's lawyer Mian Ali Ashfaq has said that her client's life is in danger so the government should provide him security immediately.