Actress and model Uzma Khan have withdrawn the case of alleged violence against the daughters of Pakistani businessman Malik Riaz and Amna Usman.
Uzma Khan has stated that the case was filed on the basis of misunderstanding and therefore she does not want to present any evidence in the case. Actress Uzma Khan and her sister Huma Khan recorded a statement before Judicial Magistrate Noman Nasir of Centt Court regarding not taking any further action in the case under Section 164 of the Criminal Code. It is to be noted that the police had registered a case against Amna Usman and others on charges of breaking into the house and causing damage to valuables. The lawsuit also included provisions for threatening and injuring with serious consequences.
Uzma Khan's sister Huma Khan said that none of the accused in the FIR tortured her and she was injured due to glass falling from a table in the house. At the end of last month, a few videos were circulating on social media showing three women entering the 'Uzma Khan's house' with armed bodyguards and torturing her and her sister.
After the videos surfaced, there was an uproar on social media in Pakistan, after which on May 26, police filed a case against Amna Usman and others for breaking into a house and torturing her and damaging valuables. The lawsuit also included provisions for threatening and injuring with serious consequences, and just days after the case was registered, the Judicial Magistrate of the Cantt Court in Lahore issued arrest warrants for Amna Usman, Pashmina Malik, and Amber Malik.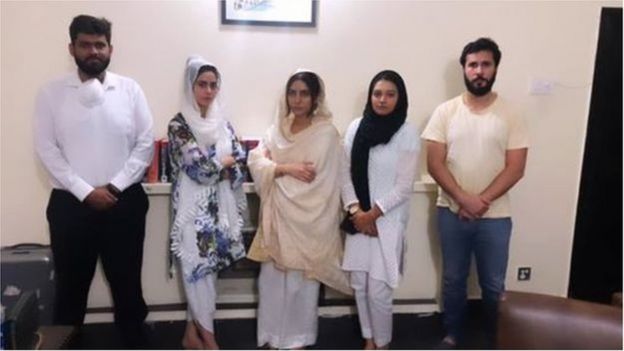 On the other hand, news of a settlement between actress Uzma Khan and Amna Usman and the daughters of Malik Riaz had been circulating for the past few days and Uzma Khan's lawyer Khadija Siddiqui had distanced herself from the case on Monday. She told on Monday night that she had made the decision following reports of an alleged settlement between the two sides and that she believed it was not her client's fault but the system that had defeated her. Disappointed
In a press conference last Thursday, Uzma Khan's lawyer Mian Ali Ashfaq had said that his client was in danger of death so the government should provide him security immediately. Meanwhile, on a question about transactions and peace, Uzma Khan had said that if something like this had happened, "it would not be here today".
She further added that if she had to end this matter and make a transaction, she would not have registered the case.