Although actors Imran Abbas and Ushna Shah have played the roles of bride and groom in dramas several times, they were surprised recently when they watched their wedding videos. Ushna Shah and Imran Abbas shared their wedding videos and photos on Instagram Stores on May 24 and expressed pleasant surprise and kept laughing about when they got married.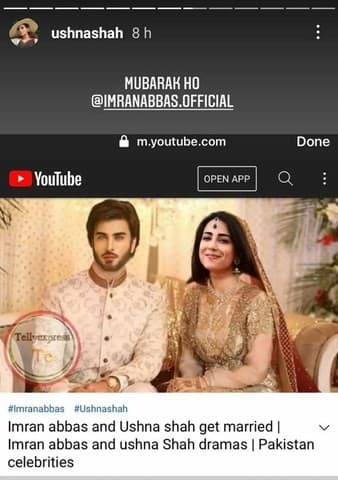 In fact, the two actors claimed their marriage through photoshopped photos on YouTube channels. When the two actors came to know about the video of their fake photos, they both shared a screenshot in Instagram stories and wondered when they got married. Ashna Shah shared a screenshot of the YouTube channel that played a fake video of her wedding, mentioned Imran Abbas, and congratulated him in a humorous way.
Similarly, Imran Abbas also shared a screenshot of the wedding video and mentioned it to the actress and at the same time suggested to YouTubers that he should do a photoshop of the photos in a good way. Imran Abbas also jokingly wrote that he forgot to tell fans about his wedding and update on Instagram. This is not the first time that rumors of Imran Abbas' marriage have spread.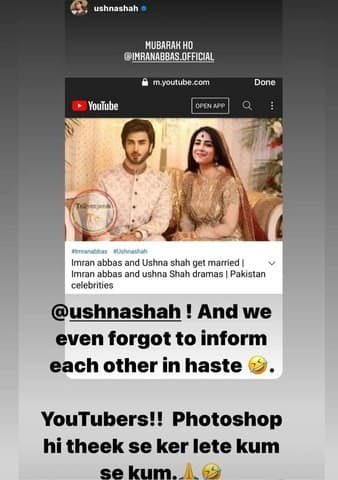 Earlier, in December 2020, rumors of the actor's marriage to actress Alizeh Shah had also spread. After the news of Alizeh Shah's marriage spread, Imran Abbas even then expressed surprise and anger over the spread of such rumors. Like Imran Abbas, Ushna Shah has talked about her marriage in the past and said that she will marry someone who is loyal, sincere, honest, and truthful.