Ghani Tiger (Hamza Ghani), who gained popularity by sharing videos on the Tik Tok app, released a video yesterday.
In which he cried and said that his father was brutally killed by some people while an attempt was also made to kill his brother.
Ghani Tiger, from Pasrur Tehsil in Sialkot, cried in his TikTok video, saying, "My father was killed in front of my eyes yesterday, he was not guilty.
They had weapons, they came to kill my father, me, and my brother.
"I survived the attack, my brother was shot in the leg, my father was hit in the head with a rod and then shot in the head," Ghani added.
On the other hand, the Punjab government has termed the killing as an act of enmity. According to the focal person, it was an incident of cross-firing between the two sides.
"My father was a good man, he never said anything to anyone, my mother is in shock, my brother is in the hospital, my father is in the grave, my Pakistanis are the ones who ruined my life," he said. ۔
Ghani Tiger also appealed for justice in his video.
After the video went viral on social media, the hashtag 'Justice for Dawood' started trending, which was used by many people to express sympathy for Ghani Tiger.
Singer and music producer Bilal Saeed wrote, "Help this child to get justice."

Actress Armina Khan wrote, "I see that he is in a lot of trouble at the moment. I hope he will get justice."

Actress Zara Noor Abbas Siddiqui wrote in her tweet, "I am deeply saddened to see that even in such an era and time, a son has to ask for justice for the murder of his father and how many murders will take place." Will these accused be sent to jail later? '

On the other hand, Punjab Chief Minister's Focal Person for Digital Media Azhar Mashwani said on Twitter that the police had registered an FIR and arrested three accused while two others were in hospital in critical condition.
He also said that it was a cross-firing incident between the two sides.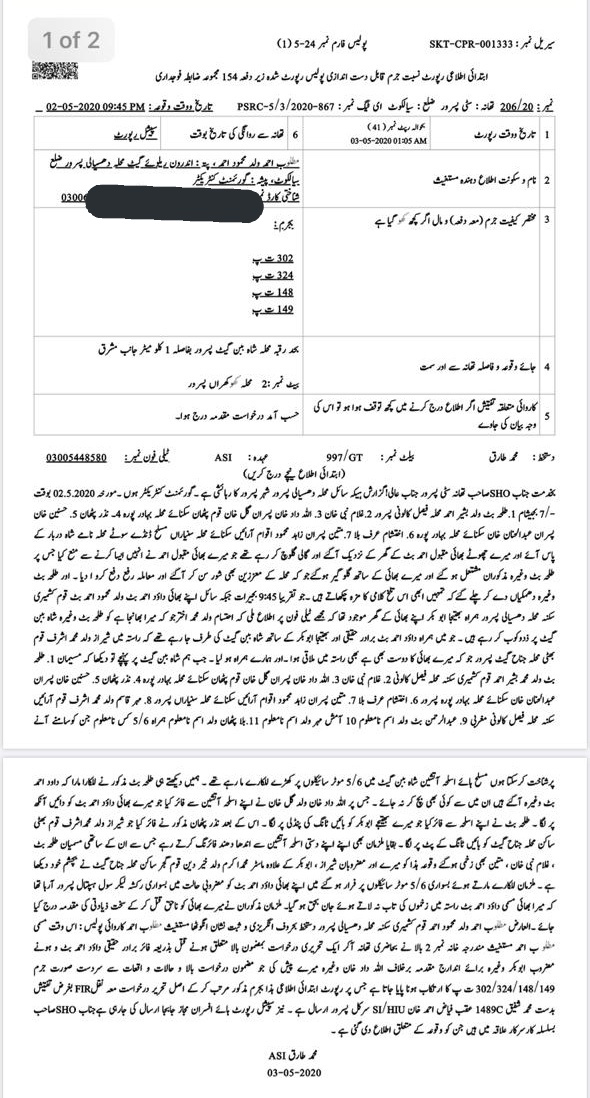 Azhar Mashwani also released another video on Twitter in which Ghani Tiger also thanked the Sialkot police for their cooperation.
In the video, Ghani Tiger said, "My name is Ghani Tiger, as you know, my father was brutally murdered on the 2nd.
After which I also posted the video, I was not fully conscious, I do not know what I said in the video, despite the Sialkot police cooperated with us and provided us protection.
According to TikToker, "Police have arrested three suspects while the search for others is on."
At the end of the video, he thanked the police and the entire nation and said that he was sure that justice would be done.