The sons of Saudi journalist Jamal Khashoggi forgave their father's killers
Salah Khashoggi, the son of Saudi journalist Jamal Khashoggi, has said that his family has forgiven his father's killers.
According to the Saudi Gazette, in a statement released on the social networking site Twitter, Salah Khashoggi said that his family had forgiven those who had killed his father.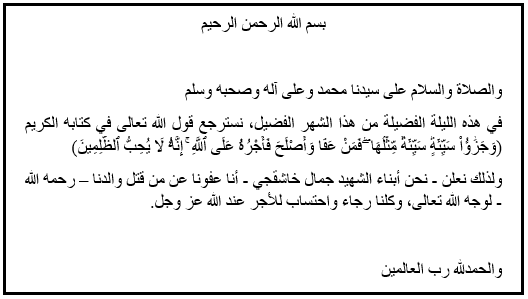 He wrote that on this blessed night of this blessed month (Ramadan) in our minds Allah Almighty has said in His Holy Book that the recompense for evil deeds is equal to it but whoever forgives and reconciles God rewards him, he does not like injustice.
"We, the sons of Shaheed Jamal Khashoggi, declare that we forgive our father's killers for the sake of Allah and ask him for a reward," he said in a statement.
In addition, according to a report by the British Broadcasting Corporation (BBC), the death penalty can be commuted under Islamic law in the light of amnesty for the victim's family, but it is not clear whether this will apply in the case.
In previous statements, Salah Khashoggi has expressed confidence in and supported the Saudi investigation.
He also criticized Saudi Arabia's opponents, saying they had used his father's death to discredit the country's leadership.
Related Posts