Showbiz personalities and celebrities usually post more and more social media posts on social media in a bid to better connect with the fans. They don't even realize how they can make a living for themselves through social media posts. Recently, former actress Noor Bukhari shared in her Instagram post how her social media posts became a security concern for her and how an unknown woman came to her house to meet her after seeing her posts.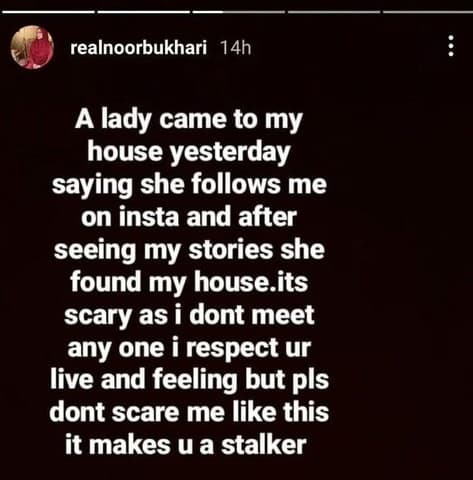 Expressing her security concerns in an Instagram post, Noor Bukhari said that an unknown woman came to his house and as soon as she met him, she said that she follows him on Instagram. Noor Bukhari said that the woman told him that after seeing the social media posts of the former actress, she managed to find his house and came to meet him.
The former actress wrote that it is horrible for an unknown woman to look for her house after seeing her posts and then come to visit her and she is scared of the said process. At the same time, she wrote that she is very scared now and she does not meet any such unknown person. Noor Bukhari appealed to her fans to appreciate her love but not to act in a way that would scare them and cause them security concerns, as such an act should be monitored against anyone's will and In a way, it is tantamount to harassment.
 

 

View this post on Instagram

 
Although Noor Bukhari appealed to the fans not to come to his house and scare them after seeing her posts, she did not instruct the fans or showbiz personalities not to post such informative social media posts, which Create security concerns for them.