There are reports that differences arose between the singer and Aima Baig, who tied the knot last year, and their fiance, producer and actor Shahbaz Shigri, and both deleted each other's photos from social media accounts.
Aima Baig and Shahbaz Shigri got engaged in July 2021 in the capital Islamabad in the presence of family, friends and showbiz personalities and even before that the two had been expressing their love for each other in front of the media.
After their romance and engagement, their marriage has been a hot topic in the showbiz industry, but now news has surfaced that the two have reportedly parted ways.
It is being claimed on social media that the two parted ways after differences arose, however, there are no confirmed reports in this regard.
If you look at their Instagram accounts, they both delete all the old photos taken together, while they also removed group photos with other people from their accounts.
Some social media pages are claiming that the two also followed each other on Instagram, but a review by DawnNews.com revealed that the two still follow each other.
While they both deleted all their photos from Instagram, Aima Baig did not delete the photo taken in October 2020 along with Shahbaz Shigri and Komal Baig, on which people taunted her and reminded her that the Image was deleted.
 

 

View this post on Instagram

 
People went to her and commented on the two-year-old photo and suggested to the singer delete the photo as well.
Although there have been reports of differences and separation between the two, the two have not yet commented on the matter.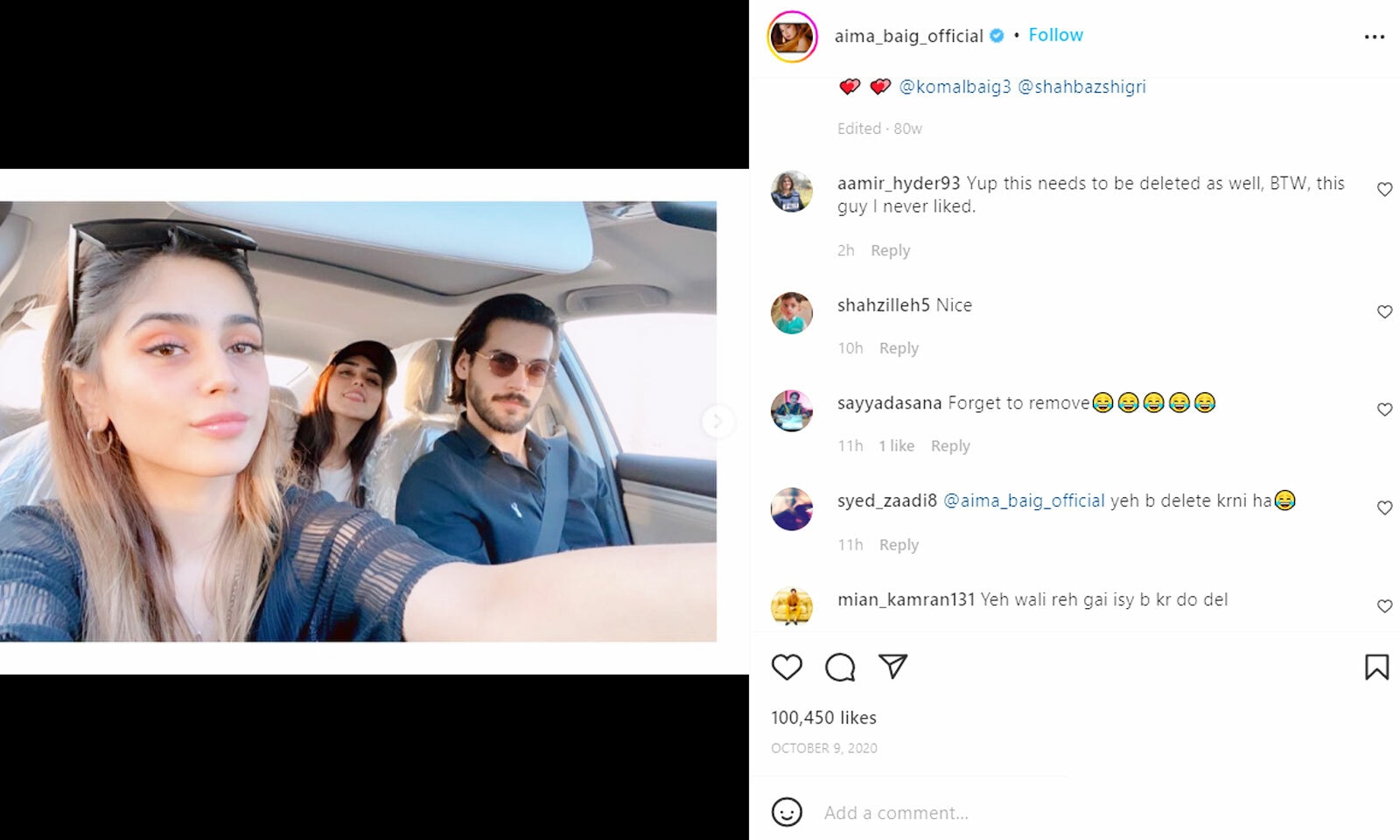 Aima Baig and Shahbaz Shigri had stated in October 2021 in 'Time Out With Ahsan' that their relationship was established during the shooting of the film 'Parey hat Love'.
According to the two, they have been in a relationship for three years and they intend to get married soon.
In the program, Shahbaz Shugri had said in response to a question from Ahsan Khan that he thinks that Ima Baig will make an excuse one hour before the wedding and quarrel with him.