"Mera Naam Joker" got unexpectedly to Arjun Kapoor
Mumbai: Actors on social networking websites offer innovative ways to keep in touch with fans, but sometimes they share something that fans start to criticize rather than praise.
The same thing happened with Bollywood actor Arjun Kapoor, the actor's recently released film 'Panipat' proved to be a flop at the box office, he painted and captioned his face like the role of a movie joker. 'My name is Joker', which fans have started criticizing by making different memes.
Although it is not clear whether Arjun is talking about the 2019 movie Joker or the 1970 Bollywood blockbuster movie Mera Naam Joker, as soon as the actor shared the post, fans started criticizing him by making different memes.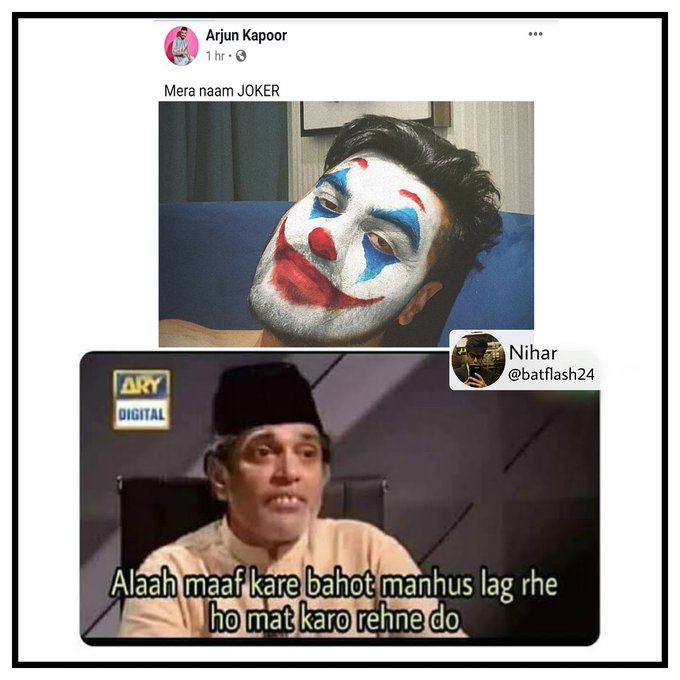 Actress Parineeti Chopra wrote on her post that 'joker too', which is what she meant to say, you are also joker, Katrina Kaif praised her image.
One user, Kashish Agarwal, shared a photo of Moin Akhtar's program written on his post and captioned his famous dialogue.
It should be noted that Arjun Kapoor, son of Boney Kapoor, has made a Bollywood entry in the film 'Ishq Zade'.