Oscar-winning Hollywood actor and TV host Tom Hanks sent a Corona brand typewriter and a letter to one of his Australian fans.
The Hollywood actor sent the gift to his 8-year-old fan because the young man had told the actor in a letter that his name was Corona and that he was being bullied at school because of that name.
According to Reuters, Corona de Vries, an 8-year-old Australian, wrote the letter to the actor and his wife, Rita Wilson, when they were infected with Corona in Queensland, Australia.
In his letter, the child expressed good wishes.
"I heard in the news that both you and your wife have been infected with the coronavirus," the boy wrote in his letter.
"I like my name very much, but at school, I am being harassed by the coronavirus, which makes me sad and angry," he added.
In response to this child's letter, Tom Hanks also sent a letter in which he wrote that his letter was written by Rita and he liked it very much.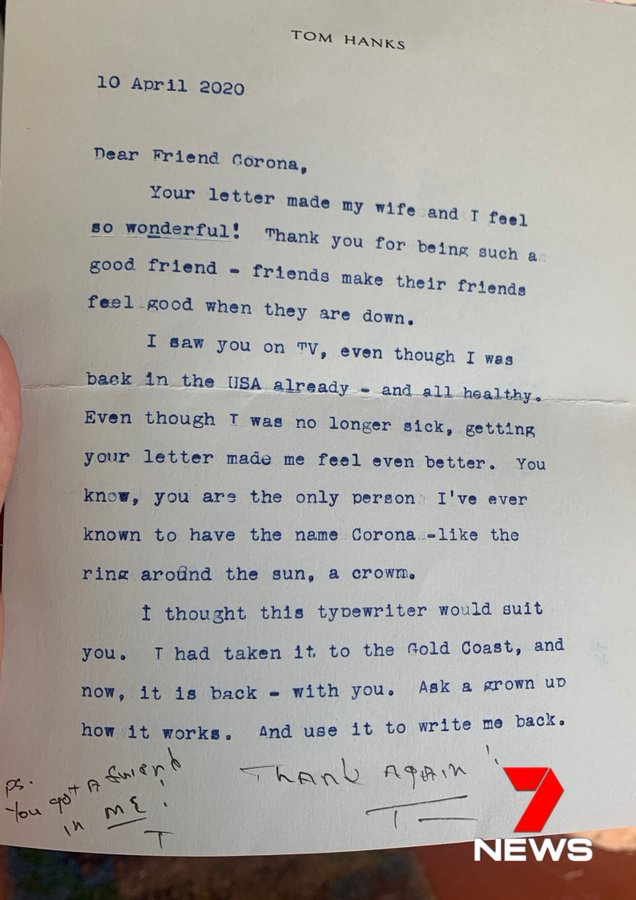 He added: "For the first time, a person named Corona has been identified. It is like a crown circling the sun."
Tom sent the Corona brand typewriter, which he himself used to quarantine, as a gift to the Corona de Vries.
"I think you will like this typewriter. I took it to the Gold Coast and now it's back to you (in Australia)," he added. Ask the adult how to use it and then write me a reply letter.
"I'm your friend now," Tom Hanks concluded.
After spending three weeks on the Gold Coast, Tom and his wife recovered from the coronavirus and returned to the United States in March.
Tom Hanks and Rita Wilson were diagnosed with the coronavirus last month, after which they both took precautionary measures and quarantined themselves.