Jemima's Tweet about Imran Khan became top trend on Twitter
Prime Minister Imran Khan's ex-wife, Jemima Goldsmith, from the British billionaire family, became top-notch after seeing a tweet about her ex-husband.
Jemima Gold Smith shared an immersive film poster created in an artistic style February 18.
Jemima tweeted the movie poster and asked 'Who doesn't like posters of Lollywood (Pakistani film industry) and also made it clear that what she is sharing poster was seen by a friend of her in Lahore.

Jemima Khan also wrote an English translation of the Urdu sentence written in the poster.
The poster shared by Jemima Gold Smith depicts Prime Minister Imran Khan sitting on a chair while the poster includes a picture of his wife Bushra Bibi and Jemima Gold Smith.
Jemima's name became a top trend in Pakistan after a tweet - screenshot
More than 22,000 people liked the same Tweet of Jemima Gold Smith retweeted 4,000 times in a few hours while dozens of people commented on their tweet after seeing the name 'Jemima' on Twitter. But it became the biggest trend in Pakistan.
Jemima's name has become top trend in a few hours - screenshot
People commented on Jemima Gold Smith's tweet, some of which were highly inappropriate, but many still commented on Imran Khan's true companion.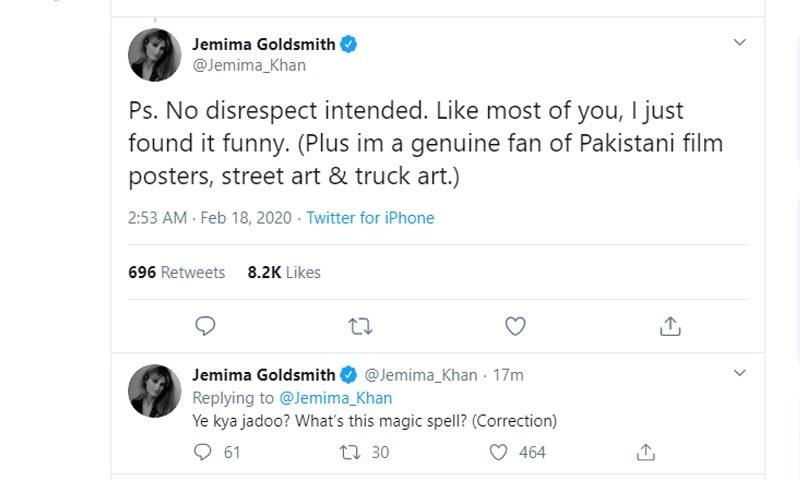 Jemima also made another descriptive tweet - the screenshot
After various tweets from people, Jemima Gold Smith made another elaborate tweet on her own tweet and told people not to take the serial to the aforementioned movie poster they just shared it as a joke, Because they are really adorable Pakistani movie posters, street art and truck art.
After Jemima's tweet, another fake movie poster from the Twitter handle called Memes by Dr. Neb was released, and Jemima was told that she was actually a fake poster and the poster she was sharing was real.
In a poster shared by Memes by Dr. NAB, Imran Khan's second wife was shown to former TV anchor Reham Khan.
Hasina Shaheen shared old photo with Jemima's Imran Khan and wrote that we all love you very much.
Imran Khan was married to Jemima in 1995 but the two divorced in 2004, after which Imran Khan got married to TV anchor Reham Khan in January 2015 and his second marriage was just It was only 10 months.
Prime Minister Imran Khan married his third wife in February 2018, Bushara Bibi.
Imran Khan gets married to Bushara Bibi in February 2018 - Photo: PTI Twitter
Related Posts