Due to her beach photoshoot and marriage offer in the comments on her pictures, leading actress Saba Qamar has become the subject of social media users these days. Saba Qamar posted a picture of herself on Instagram a few days ago, writing in the caption, "If this has to happen, it will happen."
 

 

View this post on Instagram

 

'Get married? this year,' Azeem Khan commented on Saba Qamar's message. Saba Qamar shocked the fans with an unexpected response to Azeem Khan's remark.
On Azeem Khan's statement about marriage this year, actress Saba Qamar wrote 'Accepted.'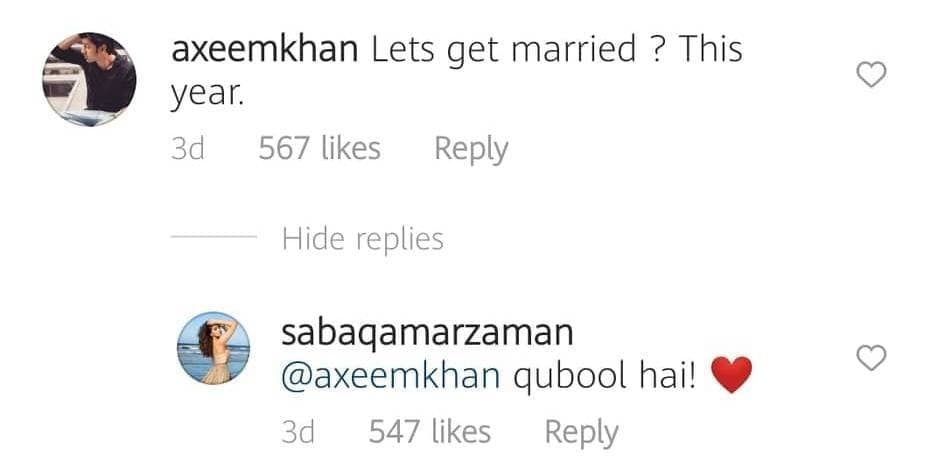 Saba Qamar's response to the remark has left social media users perplexed as to whether she is really getting married or not, as she co-starred in the song 'Qabul Hai' with singer Bilal Saeed last year.
Fans initially believed she was getting married after seeing photos of her album, but they later discovered that it was just a song. The actress Saba Qamar has announced that she is getting married, according to a story in the Express Tribune.
 

 

View this post on Instagram

 
"Yes, I've found the person with whom I'd like to share my life. "If everything goes well, I'll be married soon," she said.
"It's odd for someone like me who has always been against marriage and discouraged relationships, but there was someone here who could persuade me," Saba Qamar said.
According to the news, actress Saba Qamar revealed that she would marry Azeem Khan, who commented on her Instagram story.
Azeem Khan, a wealthy Pakistani-born Australian entrepreneur from Karachi, currently resides in Sydney, according to him.
Saba Qamar did not disclose the date of her wedding or any other details, but she did say that she was aware that it was unexpected, and that she wished for her fans and followers to pray for a better life for her.
Saba Qamar had previously discussed marriage and her views on the subject in videos posted on her YouTube channel last year.
The actress revealed in another video posted to her YouTube channel that she had been in a relationship for eight years, but that it had ended badly. "Girls are taught from a young age that even if they die, they will never abandon the first man they love," he said. "That one sentence destroyed my 8 years of life."
 

 

View this post on Instagram

 
Saba Qamar claims he was mistreated and later released due to another woman. Later, in a video titled 'Break the Stereotype,' he discussed marriage on his YouTube channel.
"The issue is that there are two groups of relatives in our society: conservative and liberal, but both include a maid in the form of a daughter-in-law. He can do his homework if he is illiterate.
In the video, Saba Qamar said that prejudices should be abolished and that business should be prohibited in the name of marriage.