Iqra and Yasir's wedding card turned out to be a copy of the Indian comedian's card?
Pakistani drama and TV popular duo Yasir Hussain And Iqra Aziz surprised everyone by attending the Lux Style Awards ceremony held in Karachi this July.
At the awards ceremony, Yassir Hussein uniquely offered to engage Mukherjee, whom the actress acknowledged and dubbed her happiness.
After accepting the offer of marriage, Yassir Hussein had put Iqra Aziz in front of everyone and kissed him on the cheek, which also had a very strong reaction from the people.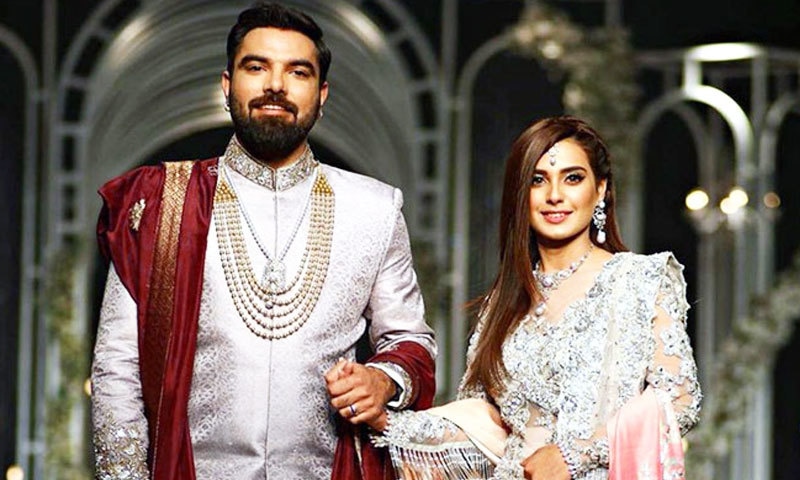 After the engagement, fans ordered her to marry soon, and a few days ago there were reports that the couple would be tied to the wedding by the end of this month and two days before the couple got their wedding invitation on social media. Sharing everyone was amazed.
The two shared a wedding invitation on their Instagram, which was different from the Pakistani showbiz celebrities' wedding invitations so far and hence their invitation was also received.
On the wedding card of Yasir Hussain and Iqra Aziz, Iqra was given an 'example of discretion' while for Yasir, the words 'come late' were also written
The wedding invitation states that 'Khadim's son' Yasir (late come true) married 'Aziz Sahib's girl' (example of understanding) will be married on December 28, 2019 (because inflation will rise in 2020). ۔
The card states that the marriage will be at one o'clock in the afternoon, while the 'lunch will be at two o'clock in the afternoon (because our prime minister is very fast).
Following these sentences, the wedding card also decorated the image of the bride and groom and both were shown holding each other's hands.
Yasir and Iqra's invitation was a bit different, but very similar to the Indian comedian's invitation.
At the end of the invitation, it was written, "No gifts needed, salute, give as advice.
The couple were praised for this wonderful wedding invitation and were told that they both created a creative invitation.
In fact, the wedding invitation of both is not a creative thing, but a copy of the wedding card of an Indian comedian came out.
In fact, the wedding invitation of Yasir Hussain And Iqra Aziz was inspired by the wedding invitation of Indian comedian, film graphic designer and businessman young Akshar Phatak.
Akshar Phatak has also been included in Forbes' Thirty-Under Things list of well-known US economic journal Forbes and has been widely followed on social media, he shares comedy videos and posts, and earlier this month. Was married
There were no pictures in the invitation of Akshar Phatak and his color was second, however the phrases on both cards were similar - Photo: Instagram
Akshar Pathak shared his wedding card on his social media accounts in November this year.
Although the card of Akra Aziz and Yassir Hussein is different from the Akshar Gate, looking at both cards suggests that Yasir Hussain and Iqra Aziz took the card from the 'Concept' Indian youth card.
The card of Iqra and Yassir is on the same page and it has animated pictures of both, while the card of Akshar Phatak consists of three pages and it does not even have a picture of the bride and groom.
However, the bride and bridegroom were introduced in the card of Yasir and Iqra and their wedding was invited just like the card of Akshar Ghat.
Aksharam Phatak's wedding invitation was written with the words 'How much we spent, nothing less than Ambani' and then introducing the bride, the marriage of 'Sharma's boy' to 'Vermaji's girl'. It will take place on December 6, 2019.
In the invitation of Akshar Phatak, it was also informed that there will be 22 thousand more weddings this month and traffic will be jammed.
Also, on the front page of their wedding invitation was written "Nine Gift Plays, Go Cash Only" (What We Will Do With 18 Juicer Mixer Grinders).
In the invitation of Yasir and Iqra, a similar phrase from Akshar Phatak was written: 'No gifts, no salami, give as a suggestion and (open your heart).
On the other page of Akshar Phatak's invitation, it was written that "If Deepika and Ranveer can do 6 ceremonies, Priyanka and Nick Jonas can do 8, then we too will have at least 2 or three events.
The address and map of the wedding hall was also given on the last page of the invitation of Akshar Ghat as well as it was written in a comical manner, 'Do not stay on the map, find out the address of the actual hall'.
Like Yasir and Iqra's wedding invitation, Akshar Pathak's invitation was popular on social media and he was criticized wherever people praised him, including giving him a 'food menu'. They also say 'what they do, how many followers they have on social media and how good they are'.