Indian singer Sonu Nigam made a controversial statement on the social networking site Twitter in 2017 regarding the sound of the call to prayer, which led to the singer being severely criticized and he also closed his Twitter account.
And now, once again, Sonu Nigam is facing criticism over the same tweets she made in the past, as she is based in Dubai, not India, due to the rapidly spreading epidemic of coronavirus.
The social networking site Twitter has seen tweets from users boycotting the Indian singer, while many have criticized him for not having a problem with the sound of the call to prayer in Dubai.
In 2017 Sonu Nigam wrote in his tweet that 'God bless you all, I am not a Muslim and I have to get up in the morning after hearing the call to prayer, when will the religious coercion end in India'.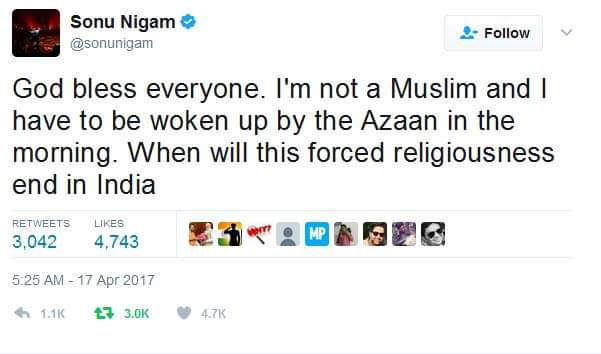 The same tweet of the singer has been trending again for several days now, after which many users also tagged the Dubai police and requested that strict action be taken against the singer.
According to the Gul News report, Sonu Nigam's son is completing his education in Dubai, insisting that Sonu Nigam is staying in Dubai instead of India these days.
The report further said that his son did not want Sonu Nigam to stay in India at such a time.
That's why people on Twitter are reminding the singer of his 2017 tweet.
In an interview, the singer said, "I decided to leave Twitter because anyone there can say anything about anyone and no action can be taken against them."
Sonu Nigam had said that users on Twitter do not shy away from criticizing personalities like Amitabh Bachchan.
Sonu Nigam, on the other hand, is organizing online concerts for her fans from Dubai so she can entertain people during the Coronavirus.