Deepika Padukone: Indian actress echoes boycott of her film 'Chapak' on JNU arrival
Indian actress Deepika Padukone arrived in Jawaharlal Nehru University (JNU) in Delhi on Tuesday where she expressed solidarity with the students over the violence.
On Deepika's JNU arrival, some praised her bravery on social media, while others criticized her for taking the stand that she was doing so to promote her new upcoming film 'Chapak'.
Deepika is trending in both India and Pakistan, and a tweet was also made from the personal account of Major General Asif Ghafoor, the head of the Pakistan Army's Public Relations Department, which later disappeared.
It should be remembered that on Sunday, dozens of masked attackers were attacked by students and teachers at several hostels of India's renowned Jawaharlal Nehru University in which several students were injured.
JNU Arrival of Deepika Padukone

Protests against the incident took place in several parts of the city on Tuesday and some prominent figures also participated. Deepika was one of the leading Bollywood actresses who suddenly appeared in this educational institution.
According to details, Deepika arrived at JNU's campus around 7.30 pm on Tuesday evening. She stood with the people there and during that time she met Aishe Ghosh, president of the JNU Student Union, who was tortured in the incident.
Deepika did not address the demonstration and returned after talking to some people. JNU alumnus Kanhaiya Kumar also participated in the demonstration.
Many Indian actors have expressed solidarity with JNU students in Mumbai and Delhi.
Asif Ghafoor's Deleted tweet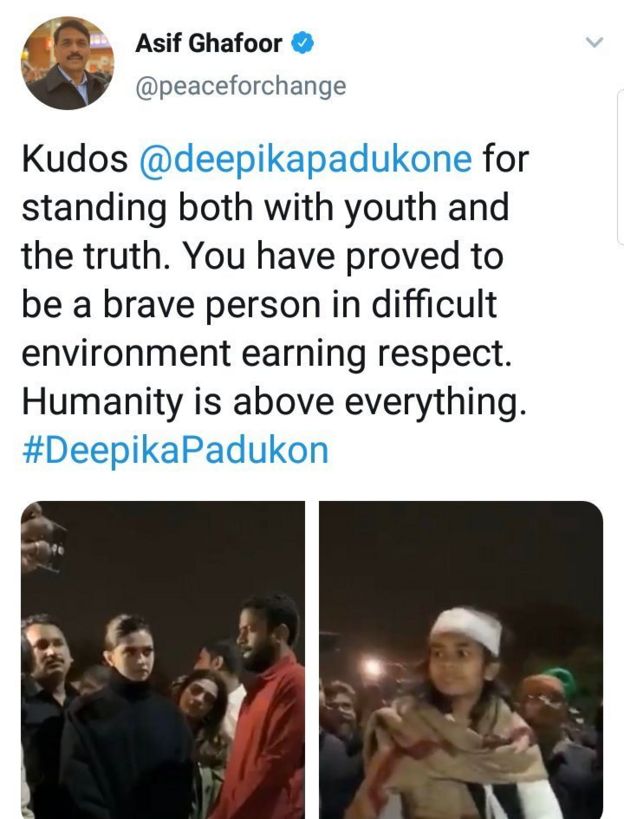 "I appreciate Deepika for standing up to the students and the truth," Major General Asif Ghafoor wrote in a tweet from his personal account.
'You are a symbol of bravery in a difficult environment that has increased your respect. Humanity should be the top priority. '
Asif Ghafoor's social media users reacted to the tweet. However, the tweet was deleted shortly after.
Why do people want to boycott Deepika's movie?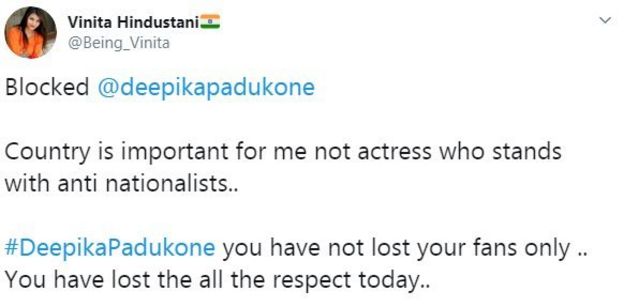 In India, the stealth film has also become a topic of debate. Some people say that they are boycotting Deepika's film because Deepika is "supporting the anti-India group."
Since Deepika's arrival at JNU, many social media users have used the hashtag 'boycott sneakers' on Twitter.
A user named Vinita Hindustani said: 'I have blocked Deepika Padukone. The country is important to me, not the actress who stands with anti-state elements. Deepika Padukone has not only lost her fan but also honour. '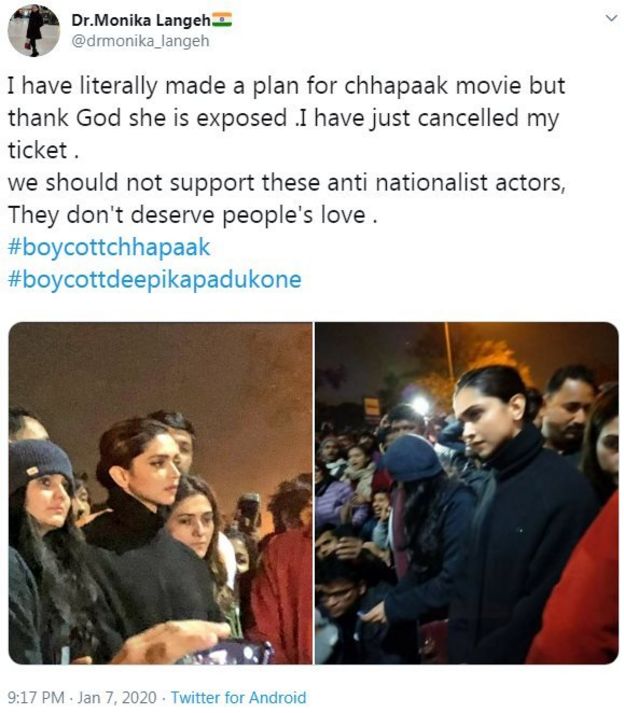 A user named Dr. Monica Langeh wrote: 'I had planned to see the sneakers, but now this story has come out. I have cancelled my ticket. '
Voices in favour of Deepika

On the other hand, some people have tweeted in favour of Deepika.

A user named Sakshi Joshi wrote: 'I knew this trend would come. Predictions about the BJP's IT cell have become easier. I am sharing your trend through this tweet. Don't worry, I'll go and watch the show on the first day. "
A user named Sarita writes that Deepika knew going to JNU would be dangerous. 'This is a brave step. I hope his film is a hit. '