Baboon, along with the tiger's baby, Refresh the Memories of 'Lion King'
In Disney's live-action movie (or the animated one that you find fit), The Lion King, you may have seen how Little Simba announces to Rafiki (a breed of monkeys) in front of the wilds.
It was the scene of the film world, but now in the real world, it is astonishingly similar to the one seen in Kroger National Park, South Africa.
Last week, a male baboon (another type of monkey) picked up a lion's baby in this national park and began to have it.
The baboon took the lion's baby to the tree and showed it, reminiscent of the movie Lion King's horn.
According to Kurt Schultz, who has worked as a safari operator for 20 years in National Park, he has never seen Bebun's behaviour because he was treating the child as if he were a child.
The safari operator told the news agency AP: 'The baboon started to feed a lion's baby as if it were a baby baboon, male baboons do much to raise the baby, but the care provided to the lion's baby is exactly that. It was like a female baboon does to one of her children. '
The baboons often gather in the area where lions and mammals hide their babies before going on the hunt, he said, and presumably, the baboon may have discovered the lion's baby there.
The baboons are very powerful, and when they saw the lion's baby, they became excited and had a fight, in which one succeeded, but they were probably injured internally, while on this hot morning the lion's baby had symptoms of dehydration. Were beginning to appear.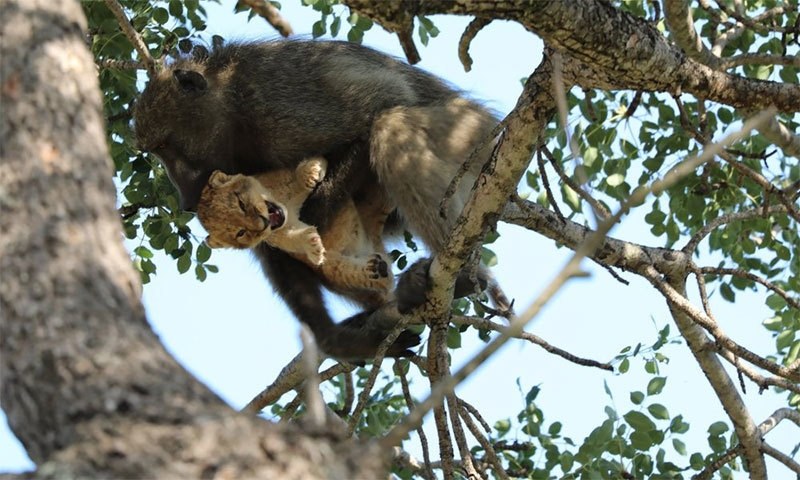 AP Photo
On this occasion, Kurt Schultz and others secured the sight in the camera's eye.
Kurt said, "I don't see the possibility of baby lion survival, this group of baboons is quite large, and even for a young lion, they are not possible. Survival will not be easy, it will prove to be a threat to the baboon when the baby is older, I have seen the baboons brutally kill offspring and have heard that these animals kill lions' babies too. ۔
Related Posts