After the screenshot of the recent Instagram story of actor Feroz Khan's wife Aliza Sultan was shared, it is being said that the differences between the two have ended.
Earlier, in December 2020, there were reports on social media that differences arose between the two and later in some social media posts it was claimed that there was a divorce between them. A screenshot of Aliza Sultan's Instagram story went viral recently after no clear statement was made on the rumors of separation and divorce by Feroz Khan and his wife in the last 8 months.
 

 

View this post on Instagram

 
After Aliza Sultan's story went viral, there are rumors that their differences have ended. It so happened that Aliza Sultan praised her and Iqra Aziz's performance in Feroz Khan's popular drama 'Khuda O Mohabbat' and also mentioned both of them.
In this regard, showbiz website Galaxy Lollywood shared Aliza Sultan's story on Instagram and said that she appreciated her husband's performance and recently wrote a compliment for him. After the story shared by Aliza Sultan in praise of Feroz Khan, the fans on social media expressed pleasant surprise and asked whether the differences between them ended and whether they were divorced or not.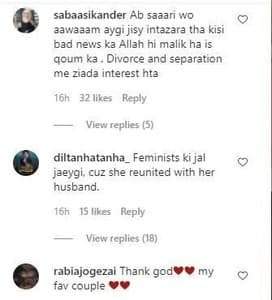 While fans asked questions about her separation and divorce, some fans wrote in the comments that Aliza Sultan's praise made it clear that there were no disputes between them. Earlier in June this year, photos of Feroz Khan and Aliza Sultan went viral on social media, claiming that the photos were taken after the news of their separation and divorce.
Even after the photos of the two went viral, rumors spread that their differences had ended. Although there have been rumors of an end to the feud after rumors of their separation and divorce spread, surprisingly, the two have not spoken openly on the issue for the past eight months.
 

 

View this post on Instagram

 
In addition, the two have not shared any photos or videos together on social media for the past one year, nor have they rejected the news of the divorce, nor have they talked about ending their differences.
The couple got married in March 2018 and had their first child in May 2019. Feroz Khan announced his retirement from showbiz in March 2020 after two years of marriage but now he is seen acting again.
His wife Aliza Sultan is not from Showbiz but is in the news as she is the actor's wife.