Actress Sara Bhatti, the ex-wife of actor Zulfiqar Mikal, has said that she always remained a supportive wife and never asked her husband about the women he worked with.
Sara Bhatti recently took to Instagram to share a screenshot of a story by showbiz website 'The Current', which distorted what her ex-husband said about his second marriage and divorce.
In an interview with Dawn Icon, Mikal Zulfiqar recently spoke about his second marriage and divorce, but he did not say anything inappropriate about his ex-wife.
The actor had said he was hesitant to talk about second marriage, but now he has discussed the matter and has no immediate plans to marry. He is busy with work and his daughters.
In response to a question, he said that if the wife is not from the industry, she may express doubts about the husband working with co-stars, but some co-stars are sensible and have no problem with them.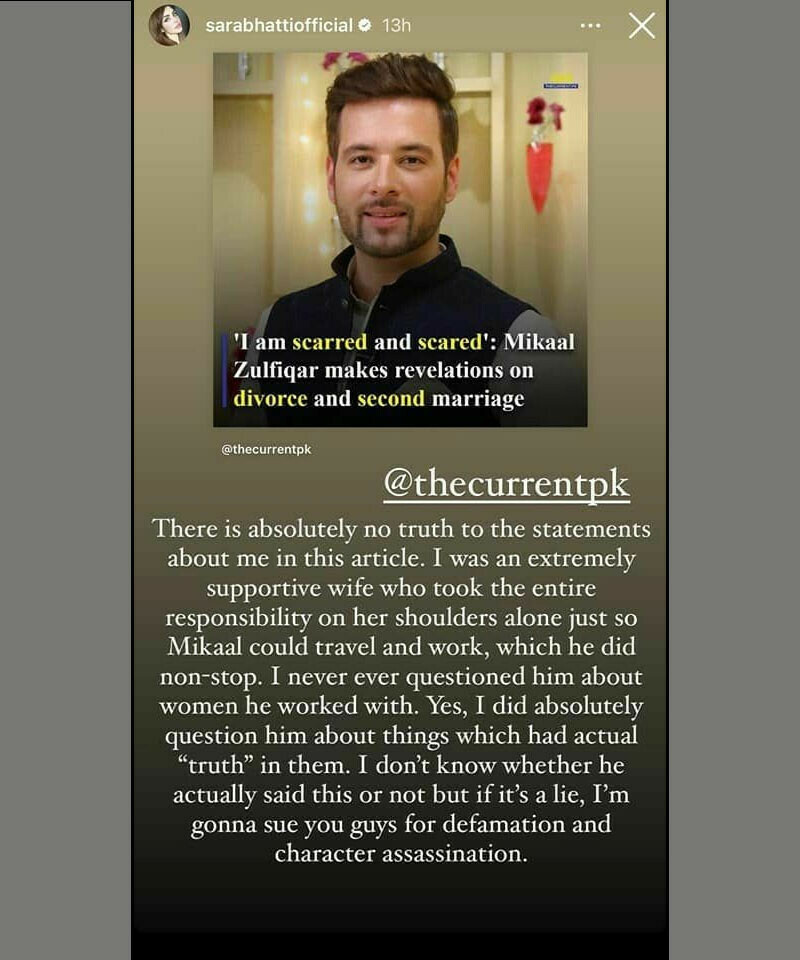 In the interview given to Dawn, Mikal Zulfikar did not openly discuss the issue of divorce with his ex-wife Sara Bhatti, nor did he say anything inappropriate about his ex-wife, but the showbiz website distorted his statement. Kar had linked her to divorce and second marriage, on which Sara Bhatti expressed her displeasure.
Sharing the link to the showbiz website news, Sara Bhatti wrote that false claims were made about her in the above article, and she may file a defamation claim against the website for the false claims.
She made it clear that she would always be a supportive wife, taking on all household responsibilities so that Mikal could work independently.
She wrote that she never questioned her ex-husband about the women he worked with, but she asked for clarification on certain true things.
Sara Bhatti also wrote that she does not know what her ex-husband said in the latest interview, but if the website has given any wrong information, she may file a defamation suit against him.
She complained in another story that many social media accounts have been created to criticise her and make her look bad, portraying her as a bad mother.
 

 

View this post on Instagram

 
At the same time, he wrote that there are many other rumours about her, but she is thankful to God that she is living a better and prosperous life contrary to these rumours.
The actress wrote that she knows that God did not create people to spread lies and rumours to others.
Sara Bhatti also expressed her best wishes to her fans. However, she did not write anything regarding the ex-husband or the divorce but expressed displeasure at the rumours against her.
Mikal Zulfiqar and Sara Bhatti married in 2012; they have two daughters and divorced in 2017.
Last year, Mikal Zulfikar told in an interview that his elder daughter is 10 years old while the younger one is 8 years old.
Last year also in the said interview, while talking about the issue of a second marriage, he said he has no intention of getting married.
 

 

View this post on Instagram