The cultural organization 'I am Karachi' for the first time held a 10-day public art festival in the Old Areas of Sindh province.
Although the Public Art Festival was held for the second time, it was the first time that the Art Festival was continued for 10 days, before the International Public Art Festival (IPF) was continued for three days in 2019.
The first Public Art Festival was held in Karachi at the historic Karachi Port Trust (KPT) in 2019 and for the first time since the establishment of Pakistan, the KPT historic building was opened to the public.

Various political and social figures attend the inauguration of the Art Festival - Photo: Sagar

The KPT building was built over a century ago by the British Government before Pakistan and for the first time last year, a public art festival was held in this building.
Festival installation artists also present to guide - Photo: Sagar

The second public art festival was launched by I Am Karachi this month from 7 to 16 February this year in the Old Area of ​​Karachi, and this time the festival was held on the city campus of Nadirshaw Eduljee Dinshaw University (NED).
Some of the art installations looked real - photos: Oceanside

The historic building of the NED City Campus is behind the building of the historical college 'Dayaram Jethmal College' (DJ) and both buildings are cultural heritage.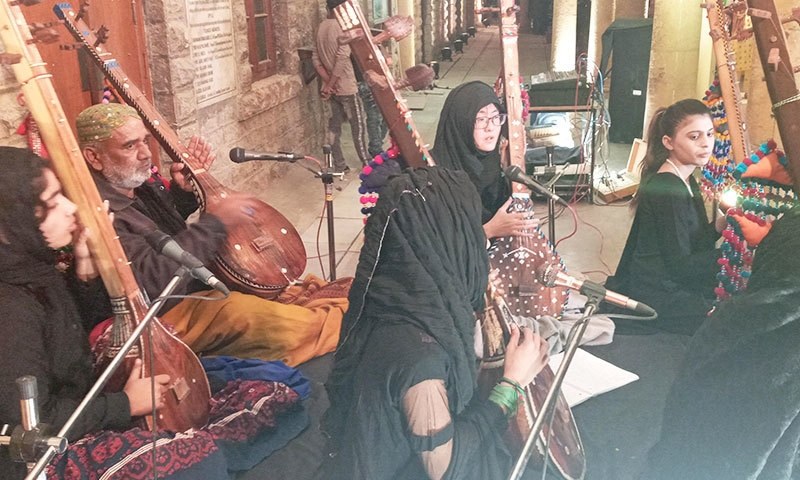 The first day of Art Festival presented by Shah Bhutai in a group of young girls - Photo: Sagar

The inaugural function of the ten-day Public Art Festival was attended by the Commissioner of Karachi, President of the Art Council, senior officials of I Am Karachi and various Consulate Generals.
Live art was also organized at the Art Festival - Photo: Sagar
A group of 5 girls presented Shah Bhatai's speech under the leadership of a senior male artist, and honoured the art and music enthusiasts, while their performances were also appreciated by the younger generation.
Some art installations are not understood by the general public - Photos: Sagar

The ten-day Public Art Festival was held for the installation and exhibition of artists from all over the world, including Pakistan, but Karachi was the focus of all the artists' exhibits.
Most of the artwork held at the Art Festival was from Karachi - Photo: Sagar
The public art festival also had live art painting arranged and painted by the administration, which was painted by young artists and put to death.
The artist focuses on the building of historic Metropole Hotel in Karachi by Italian artist - Photo: Sagar
'Chahar Bait' was also presented on the last day of the Public Art Festival and for the first time young people saw the performance of 'Chahar Bait'.
Electronic installation of Karachi's leading buildings has also been the focus - Photo: Sagar
Most of the new generation attended the Art Festival, which lasted for more than a week, but prominent figures from the arts and arts also visited the festival on different days.
Most youths attend ten-day art festival - Photo: Sagar