Malala Yousafzai Biography, Age, Height, Education, Awards, Family, Spouse, Net worth
Malala Yousafzai Biography:
FULL NAME: Malala Yousafzai
PROFESSION: Activist for female education
NATIONALITY: Pakistani
AGE: 22 years old
DATE OF BIRTH: 12 July 1997
BIRTHPLACE: (Mingora) Swat
RELIGION: Islam
ZODIAC SIGN: Cancer
NET WORTH: $ 1.87 million
Malala Yousafzai Age and Biography: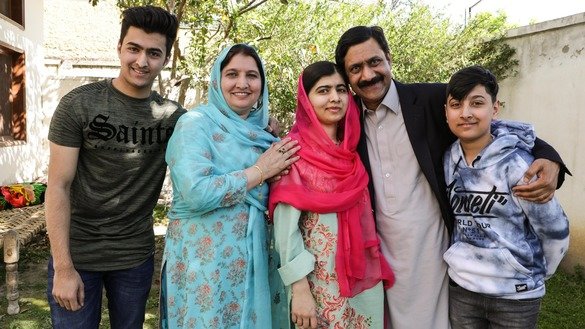 Malala was born on 12 July 1997. She was born into a Pashtun family. In Mingora. She is a Pakistani activist who is fighting for women's and children's rights. At the age of 17, she is the youngest Nobel Prize recipient for her Struggle. Malala ranked as the 9th most popular activist of all time.
Malala Yousafzai Education:
From the year of 2013 to 2017, Malala was a student at the all-girls Edgbaston High School. In 2015 she received 6A*s and 4 A at GCSE level. At A degree, she studied Geography, History, Mathematics, and Religious studies. In 2017 she decided to study philosophy, politics, and Economics. In June 2020, she has completed her final exams at university.
Malala Yousafzai Legacy:
In 2013 Time magazine featured the Malala as one of "The 100 most Influential people in the world". The name of Malala was nominated for the World Children's Prize in Sweden in 2014.
Malala Yousafzai Popularity:
Malala considers Muhammad Ali Jinnah and Benazir Bhutto as her role models. Mainly she was inspired by her father's thoughts and his works. In 2009 she wrote a blog for BBC Urdu detailing her life during the Taliban occupation of Swat. "New York Times" also made a documentary on her life. In January 2013, Malala became "The most famous teenager of the world." She founded the Malala Fund, a nonprofit organization with 'Shiza Shahid.' In the year of 2013, she was the recipient of the Sakharov Prize. In 2015 Malala was a subject of the Oscar-shortlisted documentary "He Named Me Malala." In 2017 Malala was awarded Honorary Canadian Citizenship. In 2020, she completes her graduation from Margaret Hall, Oxford.
Malala Yousafzai Other Works :
Malala is also a former Blogger for BBC Urdu. On 3 January 2009, Malala's first entry was posted to the BBC Urdu blog. She would hand-written notes and then pass them on to a reporter who would scan and e-mail them. The blog records Yousafzai's thoughts during the 'First Battle of Swat,' but then her school shuts down.
Malala Yousafzai Net Worth:
Malala's Net worth is USD 1.87 million. There is no information about the salary of Malala. She completes her graduation in June 2020.
Malala Yousafzai Bio/Wiki
Nickname: Malala
Gender: Female
Spouse: Unmarried
Birthplace: Mingora
Current residence : Canada(honorary)
Home town: Swat Pakistan
Famous for: She fights for the female and children's education and their rights.
Malala Yousafzai Body states :
Height: 5' feet 3 inch
Weight: 63 KG
Body type: Slim
Hair Color: Dark black
Eye Color: Light Brown
Malala Yousafzai Family:
Father: Ziauddin Yousafzai
Mother: Toor Pekai Yousafzai
Husband: Unmarried
Siblings: Khushal Yousafzai, Atal Yousafzai (brothers)
Malala Yousafzai Favorite things:
Subject: History
Cricketer: Shahid Afridi
Sport: Cricket
Dish: Chicken curry with rice
Singer: Katy Perry
Actor: Shah Rukh Khan
Color: purple
Malala Yousafzai Social Media Accounts
Malala Yousafzai official website malala.org.
Related Posts