Javeria Saud Biography
Javeria Saud is a Pakistani television actress, producer, singer, and host. She is best known for playing the role of Jameela in Geo TV's television drama serial ``Yeh Zindagi Hai". She is married to the talented television actor Saud, with whom she started her own production house JJS Productions in 2006 in the Pakistani entertainment industry. She took a break from acting in 2001 and made a comeback in 2006.
In 2016, she again made a serial Khuda Aur Muhabbat with Babar Javed. She has two siblings, a brother Humayun Jalil, and a sister Rubab Jalil. She completed her diploma in Textile Designing from Syed College in 1998. Then she is married to a talented actor Saud on 25th December 2005. Her father-in-law is a famous Naat reciter, Qari Shakir Qasmi. This beautiful couple has two beautiful kids, a daughter Jannat and a son, Ibrahim. She owns a production with her husband Saud, that is named as JJS Production Company.
| | |
| --- | --- |
| Born | Pakistan |
| Other names | Javeria Jalil |
| Occupation | Television, actress, host, producer, singer |
| Years active | 1993-present |
| Children | 2 |
| Known for | Yeh Zindagi Hai |
| Nickname | Javeria |
| Age | 47 |
| Birthplace | Pakistan |
| Wedding date | 25th December 2005 |
| Javeria Saud son | Ibrahim Saud |
| Javeria Saud daughter | Jannat Saud |
| Javeria Saud father-in-law | Qari Sakhir Qasmi |
| Javeria Saud mother-in-law | Basmah bint Saud |
| Javeria Saud brother-in-law | Mehmood Qasmi |
| Javeria Saud Horoscope | N/A |
Career
Javeria started her career as a naat reciter in 1993 following the year in 1995. She started her acting career on PTV channel and appeared in various television dramas throughout the 1990s. However, her career rose in 2004, after her performance in the drama serial "Ana" along with Indian stars Amna sharif and Nausheen Sardar, and Pakistani stars Mubashir Abbas, Parveen Akbar, Talat Hussain, and Ahsan Khan.
The original track was sung by Indian singer Sonu Nigam and the lyrics of the song were written by famous poet Wasi shah. The drama is played on Geo tv. After this drama, she took a short break in 2004 and came back with a hit performance in the Geo tv drama serial where she plays the role of the heroine Jameela in the family drama serials "Yeh Zindagi Hai'' which came on tv for 6 long years. Javeria produced and started acting in this drama along with her husband Saud Qasim.
She has also played in the famous drama serial from which she gets a lot of fame in the drama industry was Zahid Mahmood directed drama "Piya Ka Ghar Pyra Lagey '' starting with Nausheen Ibrahim and Shariq Zaidi. The drama was played on ARY DIGITAL from 2011 to 2013 and was liked by the audience. She again produced her drama in 2016, as a co-producer of a romantic Pakistani drama serial "Khuda Aur Muhabbat '' along with Babar Javed.
The drama's main cast is Imran Abbas Naqvi and Sadia Khan. After that, she has produced many drama serials with her husband throughout the JJS productions Company.
She appeared in the 2017 Express Entertainment drama serial "Yeh Hai Zindagi Season 4" in which she started acting with Naheed Shabbir, Noman Habib, and Saud Qasim. She has also sung many songs from various TV shows. Apart from this, she has written a drama serial "Mohabbat Zindagi Hai" played on Express Entertainment.
Javeria is also a good host and has hosted several shows on television, such as "Ramzan Ki Shaan", in 2012, on Express Entertainment TV. She is hosting a successful morning show named "Satrangi With Javeria Saud" in 2015, on Express Entertainment TV. Her one of the recent performances was the Ramazan Transmission show "Ramzan Ki Shaan season 2018" and "Ramzan Ki Shaan season 2019" which was played on Express Entertainment along with Abbas Naqvi.
Some of her notable TV dramas are:
Manzilian
Anhoni
Tipu Sultan (1997)
Maa
Thori Khushi Thora Ghum
Khaali Ankhein
Harjaaye
Piya Ka Ghar Piyara Lagey
Khala Kulsum Ka Kumba
Piyari Shammo
Rishtey Mohabbaton Ke
Saharay
Mera Naam Hai mohabbat
Ana – Darma (2004)
Yeh Zindagi Hai – drama (2008)
Jeena Sikha Do Hamain – darma ( 2012)
Pak Villa – drama (2014)
Yeh Hai Zindagi Season
Mohabbat Zindagi Hai (2017)
Javeria Saud career:
| | |
| --- | --- |
| Profession | Actress, Producer, Singer, Host |
| Known For | Yeh Zindagi Hai |
| Salary | 80K |
| Net Worth | US 3 Million Approx |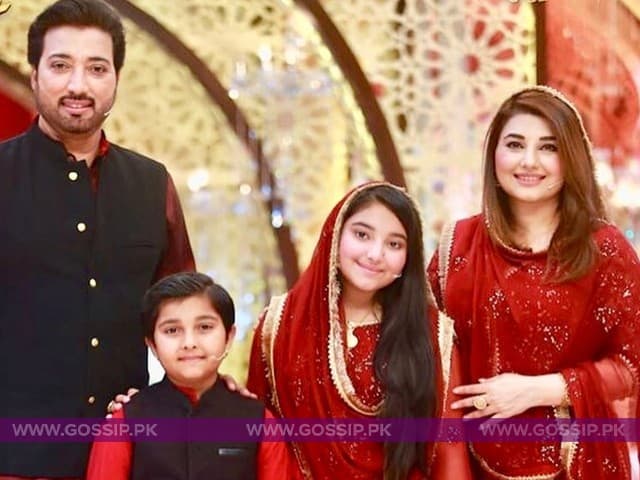 Family & Relatives:
| | |
| --- | --- |
| Father | Qari Shakir Qasmi |
| Mother | not known |
| Brother(s) | None |
| Sister(s) | Humayun Jalil, Rubab Jalil |
| Marital status | Married |
| Husband/boyfriend | Saud (m.2005) |
| Children | 2 |
| Son(s) | Ibrahim Saud |
| Daughter(s) | Jannat Saud |
Javeria Saud favorites:
| | |
| --- | --- |
| Hobbies | Dancing, swimming, |
| Favorite Actor | Adnan Siddique |
| Favorite Actress | Kareena Kapoor |
| Favorite Singer | Atif Aslam |
| Favorite Food | Rice, Egg, Juice |
| Favorite Destination | Pakistan |
| Favorite Color | Black, White |
Javeria Saud education:
School: Pakistan Navy School.
Javeria Saud height, weight, eye color, and hair color:
| | |
| --- | --- |
| Height | 5 feet 7 inches |
| Weight | 60 KG |
| Eye color | Brown |
| Hair color | black |
Achievements:
Javeria was nominated for the Best Actress in Television Drama at the 1st Indus drama awards for her exceptional performance in a leading role in the drama serial Ana (2004). Except for this, she is shining like a star in the entertainment industry for her skills and talent. She is famous for exceptional acting.
Javeria Saud Brand:
Javeria Saud has proven that she is a multi-talented actor and she is a multi-talented personality. She has proven her versatile acting. She is an actor, producer, and singer. After proving her acting in the entertainment industry Javeria Saud is just ready to enter the fashion industry. She has just launched her clothing brand named Jannat Javeria.
The store opening was held on January 6th and we can call this a luxury clothing brand by the interior of this store. The store was opened in DHA in Karachi. The collection is so classy and gorgeous. The embroidery of the clothes is so gorgeous. This makes her clothes and brand more attractive. She has become an international icon for her acting. She got her YouTube channel and got a sliver button from YouTube within a month. She has just touched the heights of success.
Social Media Handles:
Javeria Saud Instagram
Javeria Saud Twitter