Hareem Shah Biography
Hareem Shah Real Name:                   Fiza Hussain
Nick Name:                                         Hareem Shah
Occupation:                                        Tik Tok Star/social media star
Gender:                                               Female
Date of Birth:                                      28 December 1991
Age:                                                    29 years old
Marital Status:                                    Single
Religion:                                              Islam
Nationality:                                         Pakistani
Place of Birth:                                      Peshawar, KPK, Pakistan
Father Name:                                      Syed Zarar Hussain Shah
Siblings:                                              Fours sister ad three brothers
Relatives:                                            Her Aunt is Ex-Senator
Education:
Alma       Islamic Institute
MPhil       University of Peshawar, Pakistan
Hareem Shah Introduction:
Fiza Hussain, known by assumed by Hareem Shah, is a Social media star of Pakistan, famous as a Tik Toker. Verbally she became famous after her political affiliation that she is a big supporter of PTI and her numerous videos and photos caught with Imran Khan, Jahangir Tareen, Fawad Chaudhry and many other parties of PTI. She was born in Peshawar on 28 December 1991 and now she's 29 years old.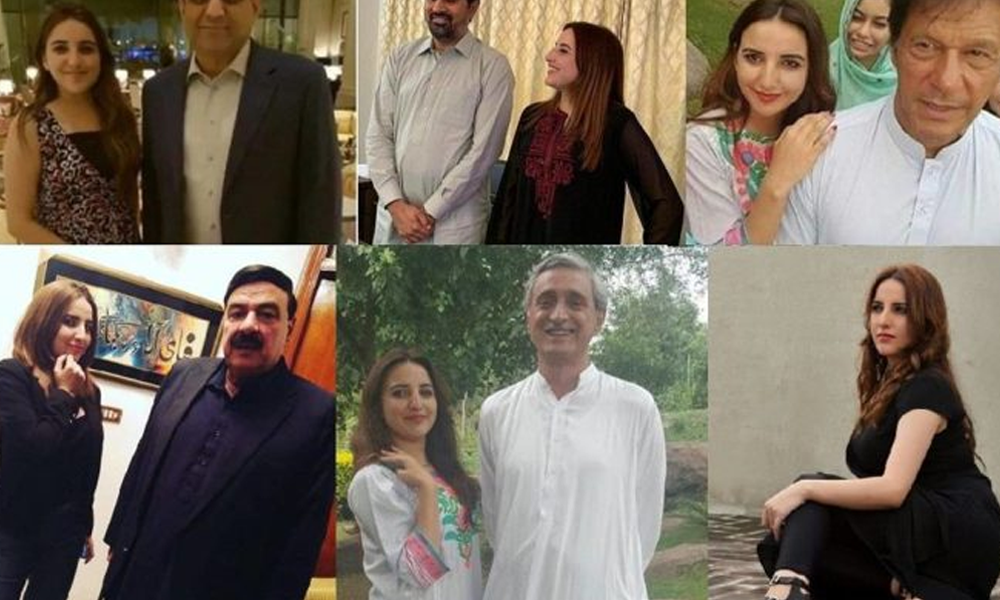 Hareem Shah belongs to KBP, Pakistan and her father's name is Syed Zarra Hussain Shah, who works in a government department. After watching her daughter's viral video, he makes a video for a nation, to apologize for what her daughter is doing.
Hareem Shah Educational Record
Hareem Shah did her MPhil from the University of Peshawar, but her father said that he has not sent her to any university or college, but she is an ALMAA and done her course from Islamic Institute. She has four sisters and three brothers, as her family is educated and rigid, they never support her video making passion and her acts. That's why now she is living in an apartment with her another tik tok partner, fried as well Sandal Khattak.
Her parents never allowed her for making videos on TIK TOK, but she has a large number of fans following. So, she left her home and become more popular after her viral video with PTI Politicians I Dubai, UAE.
The first viral video of Hareem Shah
The first viral video of Hareem Shah was Fayyaz ul, Hassan Chohan. Fayyaz ul Hassan Chohan is a Pakistani Politician and provisional minister for colonies. In that video, Hareem was in Fayyaz ul Hassan's office.
After this, she targeted Sheikh Rasheed, Railway Minister of Pakistan and viral her video of a phone call with him and said that he married her friend.
Hareem Shah with Mubashir Luqman controversy
Hareem Shah with Mubashir Luqman controversy was another news. Mubashir Luqman filed an FIR against Hareem Shah and Sundal Khattak. Hareem and Sundal were seen with the private Jet of Mubashir Luqman in one of their Tik Tok Video. In their video, they claimed that they are flying to Dubai on Mubashir's Air Jet.
As in a viral youtube video, Mubashir Luqman claims that:
"Hareem is supported by Pakistani politicians and he mentioned the name of Fayyaz ul Hassan Chohan. The payment of Hareem's stay on expensive hotels in Dubai was done by foreign accounts. He clearly claimed the involvement of Pakistani Politicians and some powers across the border in the propaganda done by Hareem against Pakistan. He said that he has collected all prove against Hareem and will not allow her to play with the respects of more people.
Currently, she trying to get the nationality of Canada and move there for her future. Let's see what will her new target and what kind of scandal she trying to make in the future!
Hareem Shah Social Media Handles